Here are the women in Hollywood who are speaking up after the Harvey Weinstein revelations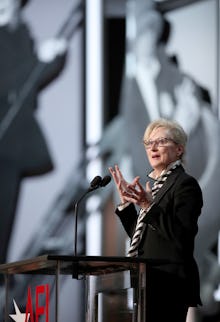 Days after a bombshell New York Times report detailed allegations of Hollywood mogul Harvey Weinstein sexually harassing women in his industry for decades, the women of Hollywood are speaking out against Weinstein and a culture that allows abusive men to remain in power.
The accounts in the Times report illustrated how Weinstein, co-founder of the Weinstein Company, wielded his power as a producer whose favor could make or break a woman's career.
For years, stories of Weinstein's abuse — which allegedly included forcibly touching women, demanding massages, appearing naked in front of them and hurling sexist insults — were an open secret in Hollywood's "inner circle," Weinstein's former assistant, Kathy DeClesis, told the Times.
On Sunday, just days after the Times report, the Weinstein Company announced it had fired Weinstein "in light of new information about misconduct." One of Weinstein's advisers, lawyer Lisa Bloom, resigned.
Now others in Hollywood are condemning Weinstein and men like him — and showing solidarity for Ashley Judd, Rose McGowan and his other alleged victims, both named and unnamed.
Meryl Streep
"The disgraceful news about Harvey Weinstein has appalled those of us whose work he championed and those whose good and worthy causes he supported," Oscar winner Meryl Streep said in a statement first provided to HuffPost. "The intrepid women who raised their voices to expose this abuse are our heroes."
Streep, who previously worked with Weinstein, said she was unaware of the abuse allegations or Weinstein's financial settlements with women he allegedly harassed. She again extolled the bravery of the women who chose to speak out.
"The behavior is inexcusable, but the abuse of power familiar," Streep said. "Each brave voice that is raised, heard and credited by our watchdog media will ultimately change the game."
Julianne Moore
Oscar winner Julianne Moore spoke out about the revelations in a series of Monday tweets. "Coming forward about sexual abuse and coercion is scary, and women have nothing to be gained personally by doing so," Moore wrote.
Like Streep, Moore referenced the bravery of women like Judd and McGowan and urged others to "stand with" them.
Lena Dunham
Girls star Lena Dunham tweeted Thursday — the day the Times report was published — about her admiration for the women who spoke out about Weinstein.
In a series of tweets on Friday, Dunham urged her followers to not judge the women who allegedly received settlements from Weinstein or who waited to come forward about their experiences. "Men like Weinstein threaten what you hold dear — your safety, financial freedom and yes — [your] career," she wrote. "It's only in the last few years that people gather around victims. And even now, it's a lonely place to be."
America Ferrera
Actor America Ferrera also spoke out Thursday, tweeting about the importance of calling out abuses of power and urging support for "those brave enough" to go public.
Patricia Arquette
Oscar winner Patricia Arquette — who has previously been vocal about gender inequality in Hollywood — addressed the revelations in a tweet Monday. "If there is a way to cure yourself of being a predator, then I hope Harvey learns what it is [and] shares it with the world," she wrote. "It's an epidemic."
Susan Sarandon
In a tweet on Saturday, actor Susan Sarandon lauded the bravery of women like Judd, who "broke their silence" about Weinstein's behavior.
Amber Tamblyn
Actor and activist Amber Tamblyn, who has spoken out about her own experiences with sexual harassment and the scrutiny women face when they take the risk of reporting abuse, shared the Times story on Twitter on Friday with an accompanying message: "Heed the mantra and never forget: Women. Have. Nothing. To. Gain. And. Everything. To Lose. By. Coming. Forward."
Tamblyn also urged support for Judd and others who revealed their experiences with Weinstein. "Stand with @AshleyJudd or give your legs to someone else," she wrote. "What she and others have just done is painful and difficult and triumphant."
Gwyneth Paltrow
Days after the initial Times report, Gwyneth Paltrow joined the ranks of the women speaking out against Weinstein — and revealed that she was one of his victims. Paltrow told the New York Times on Tuesday that when she was 22, Weinstein harassed her in a Beverly Hills hotel room.
Paltrow told the Times that actor Brad Pitt, her boyfriend at the time, confronted Weinstein about his behavior. Shortly after, Paltrow said, Weinstein threatened her to keep quiet about the harassment. A representative for Pitt confirmed Paltrow's account to the Times.
"We're at a point in time when women need to send a clear message that this is over," Paltrow told the Times. "This way of treating women ends now."
Angelina Jolie
Actor Angelina Jolie, told the Times in an email on Tuesday that she had also been harassed by Weinstein early in her career, and had rejected him.
"I had a bad experience with Harvey Weinstein in my youth, and as a result, chose never to work with him again and warn others when they did," Jolie told the Times. "This behavior towards women in any field, any country is unacceptable."
Oct. 10, 2017, 1:30 p.m.: This story has been updated.