Behind the scenes — and seams — of one of Europe's biggest and most lavish outdoor ice spectacles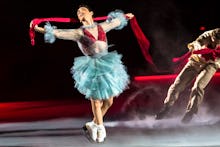 VERONA, Italy — Intimissimi on Ice could easily be perceived as Europe's answer to America's Victoria's Secret Runway Show — an overwhelming spectacle of sensory overload under the guise of a fashion show.
There were celebrity attendees du jour: actress Katie Holmes, model Irina Shayk and tennis superstar Ana Ivanovic, to name a few; live performances from Andrea Bocelli and Russian pop star Zara; some of the most decorated ice stars in the world, including two-time Olympic gold medallist Evgeni Plushenko and Japanese champion Shizuka Arakawa, the first Japanese figure skater to win gold at the Olympics; as well as a barrage of eye-popping intimates.
All this in a 90-minute, two-act ice show held at the open-air Teatro Romano di Verona — a theater built in the first century B.C.
Everything about this show felt infused with bombast: the 210 costumes designed by Chiara Ferragni; music composed by John Metcalf, the British composer who's worked with Coldplay and George Michael; the movements, expertly choreographed by Nathan J. Clarke, who's worked with some of pop's biggest names, including Kylie Minogue and Sia; and the overall direction, helmed by acclaimed Italian opera director Damiano Michieletto.
"It's all about mixing different techniques," Marco Balich, the show's creative director, said in an interview hours before the show. Balich, whose previous credits include executive producing the opening ceremony of the 2016 Olympic Games in Rio, is returning for his fourth year at the helm, since the show's very first incarnation in 2014.
So how does this gargantuan production begin to breathe life? "Six months before, we gather together and we say, 'OK, what do we have to do?'" Balich explained. "Is it a fashion show? Maybe. Is it a tribute to opera? Surely. It has to be something that can pleasure 10,000 people for each of the three nights. It also has to be TV friendly, but also spectacular on the ground. All these considerations are shaken, thrown on a table and combined to put on this show."
Balich's main job, according to him, is to drive the process and "keep the line," a line that certainly has want to deviate given the 155 people that touch the production, not counting the performers and chorus members. "This year the line is to talk about women in the mythology. Us Europeans, we always study in school — very boring — we study the classical mythology like the nymphs or the Pleiades or Penelope waiting 10 years while Ulysses was traveling around or Helen of Troy being contended by the Greeks and the Trojans. So we staged those women in a very spectacular way."
For instance, Helen of Troy is staged amid a hockey game.
For Ana Ivanovic, who stars in Intimissimi's latest Mario Testino-shot campaign alongside Dakota Johnson, Irina Shayk and Ella Mills, it's the brand's message that really made her want to be a part of what she calls the Intimissimi family.
"Last year I was here for the event and I really felt a familial feel," Ivanovic said in an interview before the show. "For me, that's something that stuck and something I wanted to be a part of. It's an important message that we are sending since nowadays many women are struggling with self-confidence and self-doubt and this is a great way for all these women, from sports figures to actresses to cooks, to come together and show that we all come in different shapes and sizes but we are all strong."
Below, check out even more photos from the event.