ESPN suspends Jemele Hill after tweets suggest boycott against Dallas Cowboys' advertisers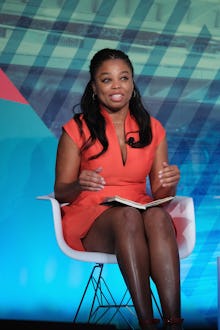 ESPN has suspended show host Jemele Hill for violating the company's social media guidelines, the company said Monday.
Hill, who had previously been in hot water for tweeting that President Donald Trump was a white supremacist, is being suspended for two weeks.
"Jemele Hill has been suspended for two weeks for a second violation of our social media guidelines," the statement read. "She previously acknowledged letting her colleagues and company down with an impulsive tweet. In the aftermath, all employees were reminded of how individual tweets may reflect negatively on ESPN and that such actions would have consequences. Hence this decision."
ESPN did not say which of Hill's tweets violated the company's social media guidelines. But on Sunday, Hill tweeted a number of times suggesting that if Dallas Cowboys fans were upset at team owner Jerry Jones for promising to bench players who kneel during the national anthem, they should consider boycotting the team and its advertisers.
"If you feel strongly about JJ's statement, boycott his advertisers," she said in a string of tweets.
On Monday, Hill tweeted that she was not pushing for a boycott. Instead, she said, she was advocating for fans to take action themselves if they were upset by Jones' remarks.
"Just so we're clear: I'm not advocating a NFL boycott," Hill tweeted Monday. "But an unfair burden has been put on players in Dallas & Miami w/ anthem directives."
Hill came under fire in September after she tweeted that Trump was a "white supremacist" and was "unfit to be president," claims that drew the ire of conservative media and the White House. White House press secretary Sarah Huckabee Sanders called for her to be fired, and Trump demanded ESPN to "apologize."
Hill has not apologized for those comments, but she expressed regret about the way her remarks reflected on ESPN.