Report: Trump was mad U.S. businesses can't bribe foreign officials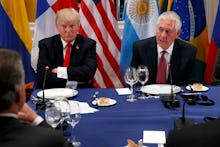 Donald Trump reportedly fumed to Secretary of State Rex Tillerson over U.S. laws prohibiting American businesses from paying bribes.
In a lengthy New Yorker profile of Tillerson, writer Dexter Filkins described an anecdote from early in Trump's administration in which the president supposedly complained to Tillerson about the strictness of U.S. bribery laws.
In February, a few weeks after Tillerson was confirmed by the Senate, he visited the Oval Office to introduce the president to a potential deputy, but Trump had something else on his mind. He began fulminating about federal laws that prohibit American businesses from bribing officials overseas; the businesses, he said, were being unfairly penalized.
The incident was described as part of a deeper look into Tillerson's rumored disillusionment with his boss.
Tillerson reportedly responded to Trump by defending the laws and recalling an instance when, as chairman and CEO of ExxonMobil, he declined when solicited for a bribe.
That it was Tillerson who found himself lecturing Trump on the morals of enabling foreign corruption illustrates the president's out-of-bounds position — especially considering that under Tillerson's leadership, ExxonMobil repeatedly engaged in activities that undermined U.S. foreign policy and skirted the law.
According to Steve Coll's Private Empire: ExxonMobil and American Power, ExxonMobil (during the tenures of both Tillerson and his predecessor) paid out massive kickbacks to Chad's military dictator while drilling for oil in that country
Yet even Tillerson appears to have been taken aback by the president's bald-faced endorsement of corruption.
The profile also detailed Tillerson's current frustrations with the White House and suggested there is enmity between Tillerson and United Nations Ambassador Nicki Haley over her ability to get things done diplomatically where he can't.
"Rex hates her," a "senior administration official" reportedly told the New Yorker, referring to Haley. "He fucking hates her."