You will never love to travel until you love to travel alone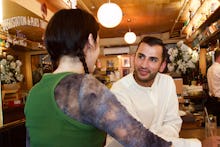 There is a well-known adage that you never truly know someone until you travel with them. While the saying is typically offered as a caution to new romantic partners planning their first island getaway or friends heading out on a road trip, it can also apply to another person you travel with a lot: yourself.
For some, the thought of taking an out-of-town trip without the company of friends or family isn't even an option to consider. For those who prefer travel partners, many questions and anxieties may arise. Won't it be boring? Isn't dining alone super awkward? Whom will I talk to?
Even with those concerns of varying legitimacy, for a subset of adventurous, seasoned travelers, hitting the road alone is not only just as enjoyable as it is with company — it can also be infinitely more rewarding.
"Someone once told me that if you can put yourself in uncomfortable situations, that's going to be the highest level of growth for you by far." — Atif Kazmi, entrepreneur
Kazmi, cofounder of creative agency Networkgray, frequently travels alone for both work and pleasure. "I do it because I can see a certain level of adventure in it," he added.
It took Kazmi some effort to power through nerves when he went it alone for the first time, leaving his home on the East Coast for a job interview in Santa Monica, California. "I hadn't really traveled too much before that," Kazmi said. "I remember actually emotionally breaking down, because it was such a major moment in my life. I just needed to do that to be like, 'OK, this is major,' to realize this is a major shift and I need to now recalibrate."
The first rule of traveling alone is to understand that it's natural to feel apprehensive before leaving for your maiden solo voyage. Rachel Tashjian, a writer based in New York, took her first solitary excursion at 4 years old when she decided to run away from home. "I circled the neighborhood a few times, returned home and have never rebelled since," she said.
Youthful rites of passage behind her, an adult Tashjian returned to the idea of taking a vacation by herself after a breakup led her to book a ticket to Paris. "We'd gone to the city together shortly after we'd started dating, and I was worried a place I'd loved so much would be tainted by bad memories," Tashjian said. "So I wanted to return alone and make a few good memories of my own."
Though it likely would have been little consolation to Tashjian and Kazmi at the time, even lifelong solo travel experts have their own strained moments, although theirs may come at different times.
Thanks to a childhood spent crisscrossing the Atlantic between his native Portugal and his mother's adopted home in the United States, Carlos João Parreira, founder of the artisanal home goods retailer Lusitano1143, has been flying alone since the age of 6. And while he didn't experience any pretrip nerves when the nature of his solo travel eventually shifted to adult business trips, his first jaunt to Paris for work started to go awry upon his arrival in France. "It was very stressful," Parreira said. "I didn't have directions to the hotel; I didn't bring an extra charger. I didn't do any of these things that now seem like a given."
On his Paris trip, Parreira eventually relied on the kindness of locals and a bit of broken French to find his hotel. He now errs on the side of being overprepared if he's traveling without his husband or friends, researching his destinations extensively and, in case cell-phone service or battery life is an issue, printing itineraries and tickets in advance.
For other reasons, Parreira still advocates talking to locals when you're in an unfamiliar place. "When I'm in a situation where I'm comfortable, I try to expand my comfort zone, my boundaries," he said. "I'm not the guy [who] goes to a bar by myself, but in other positions [I'm] chatty. If you're in a coffee shop or a retail shop, I always ask, 'Where should I not miss? What's your favorite thing to do?' People want you to experience the best of their city, right? Everyone tends to be quite proud of their own city. Everyone has a favorite restaurant or a favorite shop. I just ask."
Parreira's pretrip routine also includes packing more personal items geared toward alone time. "I find that when I travel alone, I do a lot more reading and I do a lot more photography," Parreira said.
Kazmi similarly thrives on meeting new people whenever he travels by himself. During a layover in Doha, Qatar, on the way back from a soul-searching trip to Iran, he struck up a conversation with a local while wandering around town taking photos. "He saw my camera," Kazmi said. "He was like, 'Oh, you're into photography? I know exactly where you should go.'" From that small interaction, Kazmi emerged with a friendship that has lasted ever since. "You can tell certain things about a person from their style or how they carry themselves," he said. "And you're like, 'You know what, I want to meet that person [who] might know something that I need to know.'"
Despite his ample preparation, Parreira also leaves room for the spontaneous adventures meeting strangers can provide. During a recent solo trip to visit some Portuguese artisans with whom he works, he seized the opportunity of not having to be accountable to anyone else.
"I hadn't been to [Porto, Portugal] since I was like 3 years old," Parreira said. "I asked the hotel guy, 'Where should I go that might have a couple cool shops?' and he told me this part of town." There, he met a textile artist who recommended another artist, who suggested another and so on. Parreira now does business with several of the craftspeople he met during that trip.
"These are not people [who] are in any books, any Instagram, any anything," Parreira said. "That would have never happened had I been with someone else. Particularly for traveling solo, you want to feel like you know what's going on and then from that, you can allow it to go anywhere."
Making new friends can address the issue of eating alone. If you don't find any dining companions, Parreira has some tips for that, too: Bring a book, sit at the bar and realize that no one there actually cares you're by yourself in a café. "You're always thinking about it more than anybody else is," he said.
For her part, Tashjian eschews making friends on vacation. "This isn't camp," she joked. Instead, she revels in being completely free from the input of others — an increasingly rare luxury. It starts before she even leaves, with her packing choices. "I bring everything I've ever thought of," she said. "No one is there to judge you for overpacking or to say, 'I'm not carrying that for you.'"
Regardless of how many bags you end up lugging along for the ride, Kazmi also shared some tips for practical preflight prep — including being prepared for the possibility you won't have ATM access during international travel and should be prepared to pay with a credit card. He said that while he expected to be unable to withdraw money during his trip to Iran, he was surprised to experience the same elsewhere. "Like Bermuda," Kazmi said. "Bermuda's a fairly modern country, but to get to an ATM is not an easy task."
When venturing out to shop, Parreira is partial to traveling light. Not only does he advise this for the freedom it brings, but also as an added security against theft. Whenever possible, "I leave my physical wallet at home ... or in the hotel room safe when I'm traveling," Parreira said. With his cellphone as his virtual wallet, he uses mobile pay with his Visa account to make secure purchases.
Paying mind to practical and logistical concerns can leave you open to experiences that will, as Kazmi said, allow for personal growth — or even just help you fully unplug, if that's your goal.
Solo travel, according to those who love it, is really about you. There is no wrong way to do it.
"You spend too much time traveling with others, deciding what to do rather than doing it," Tashjian said. "The best part about traveling alone is that you don't have to ask anyone what they feel like doing and pretend you want to do it, too."