Trump challenges Rex Tillerson to an IQ test: "I can tell you who is going to win."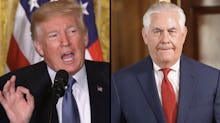 President Donald Trump challenged Secretary of State Rex Tillerson to an IQ test, a direct response to a report that Tillerson called Trump a "moron" over the summer.
"I think it's fake news," Trump said in an interview with Forbes published Tuesday morning, a reference to the report that Tillerson had called him a moron. "But if he did that, I guess we'll have to compare IQ tests. And I can tell you who is going to win."
Tillerson never denied that he called Trump a moron, and NBC News — which first reported Tillerson's comments — sticks by their report.
Trump and Tillerson are scheduled to have lunch Tuesday at the White House.
Aside from his challenge to Tillerson, Trump also spoke about the economy and his economic plan in the wide-ranging interview with Forbes.
He bragged about hitting a quarterly economic growth rate of 3%, and incorrectly said that's something former President Barack Obama never saw.
In fact, Obama saw multiple quarters of more than 3% economic growth during his tenure — something Forbes pointed out to Trump in the interview.
"He never hit it on a yearly basis," Trump told Forbes after being informed that his claim was false. "Never hit it on a yearly basis. That's eight years. I think we'll go substantially higher than that. And I think this quarter would have been phenomenal, except for the hurricanes."
Economic forecasts do not suggest the economy will hit 3% growth in 2017, especially after the September jobs report — the first monthly jobs report to show a loss of jobs since 2010.