Designer Donna Karan defends Harvey Weinstein by victim blaming, then hastily apologizes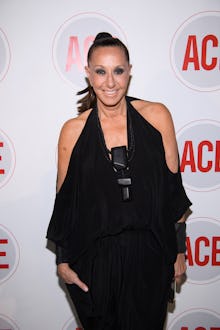 For the most part, the entertainment industry is taking a large step back from Harvey Weinstein.
After the story broke in the New York Times Thursday that multiple women had accused the prolific film producer sexually harassed women for decades, Weinstein was fired from his own film production company, and stars like Meryl Streep, George Clooney Judi Dench, Julianne Moore and Glenn Close publicly came out against him. But designer Donna Karan boldly decided to do the exact opposite.
In a red carpet interview caught on tape by the Daily Mail at the Cinemoi Fashion Film Awards on Sunday in Hollywood, California, Karan said that she thought Weinstein and his wife Georgina Chapman, co-founder of the fashion label Marchesa, were "wonderful people." Then she started to blame Weinstein's victims. Ironically, given that she's a fashion designer, she alluded to the idea that how they dressed could have affected what happened to them.
"To see it here in our own country is very difficult, but I also think how do we display ourselves?" she said. "How do we present ourselves as women? What are we asking? Are we asking for it by presenting all the sensuality and all the sexuality? And what are we throwing out to our children today about how to dance and how to perform and what to wear? How much should they show?"
As her comments came to light on Monday, multiple people came forward, disgusted. Actress Rose McGowan, who is allegedly one of Weinstein's many victims, called Karan "deplorable."
In a statement release on Monday night, Karan tried to walk back her previous statement.
"I made a statement that unfortunately is not representative of how I feel or what I believe," Karan said. "My statements were taken out of context and do not represent how I feel about the current situation concerning Harvey Weinstein. I believe that sexual harassment is not acceptable and this is an issue that must be addressed once and for all regardless of the individual."
"I am truly sorry to anyone that I offended and everyone that has even been a victim."
It'll be interesting how the businesses of Karan, who parted ways with her namesake label Donna Karan New York in 2015, fare from here, with some on Twitter already calling for a boycott of the brand. Since leaving DKNY in 2015, Karan has gone on to found the luxury lifestyle brand Urban Zen.
Mic has reached out to Karan's representatives for further comment.