One key statistic explains Donald Trump's strategy of playing to his base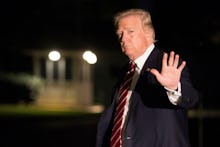 Welcome to Mic's daily read on Donald Trump's America. Want to receive this as a daily email in your inbox? Subscribe here.
Every day, we bring you a different dispatch on Trump's America. Today's focus: Trump polls.
Tuesday's dispatch: The new normal
If Donald Trump does one thing with consistency, it's play to his base.
The president's most high-profile moves on health care, the environment, immigration, trade and global diplomacy have all sent messages to his core supporters. The Muslim ban executive orders stopping people from some Muslim-majority countries from entering the U.S. kept a campaign promise, even if multiple variations have been struck down in court. Efforts to repeal and replace the Affordable Care Act also kept a promise, even when it seemed like all health care groups and many politicians were aligned against him.
On Monday, Environmental Protection Agency Administrator Scott Pruitt said the "war on coal is over," speaking to coal miners during an event in Kentucky. He will move to withdraw the Obama-era Clean Power Plan on Tuesday — a promise Trump made to voters in states like Kentucky and West Virginia. Trump also released immigration priorities Sunday night that angered Democrats and pleased conservatives. And even decertifying the Iran nuclear deal would play to Trump's supporters — the president criticized the deal on the campaign trail — but would largely be symbolic.
The president, seeking to counter Sen. Mitch McConnell (R-Ky.) and other Republicans stymying his agenda in the Senate, also faces the opportunity to back primary candidates against incumbent GOP senators who are close to Congressional leadership. Steve Bannon and the Great America Alliance are pouring millions of dollars into such races, begging Trump to get involved.
Why would the president consider meddling in those primaries and pursuing policies that will further alienate a majority of the country? Because the base is all he has left.
Trump has not had a composite approval rating above 40% since May, according to FiveThirtyEight. Gallup last pegged him above 40% in June. According to RealClearPolitics, Trump has briefly poked above 40% three times since the end of May.
The Associated Press pegged Trump's approval at 32%, with only 23% viewing him as honest in a September poll. And in rural areas, the president approval and disapproval are now even. Trump won 61% of the vote there in November, according to exit polls.
A Morning Consult survey of 470,000 people finds Trump's support has dropped precipitously nationwide, with double-digit declines in approval rating in states Trump won handily nearly a year ago. That survey did find Trump maintains support, albeit sometimes narrow, from West Virginia down to Texas and north to Montana. But voters in states that put Trump over the top, like Pennsylvania and Wisconsin, now clearly disapprove of the president.
It's too early to know how Trump's historic unpopularity will impact the 2018 midterm elections or the president's re-election bid. But it has become clear that his core supporters — the 25% of Americans who are with him to the end — are increasingly the only group that supports Trump's agenda.
Today's question: Will Republicans head into 2018 primaries with an energized base? Or one dismayed by a lack of progress in Washington?
Please email us at trumpsamerica@mic.com with your thoughts. And subscribe to the newsletter to weigh-in on other reader comments.
Tuesday in Trump's America:
Before-and-after photos from the New York Times show the devastation from fires in northern California that have destroyed wineries and parts of cities. Hundreds of firefighters were fighting dozens of fires burning north of San Francisco.
In Puerto Rico, 16% of the island has electricity and 86% of supermarkets are open.
Steve Bannon to Sen. Bob Corker (R-Tenn.): Resign if you won't support Trump.
The president tweeted he will use the "power of the pen" to take action on health care because Congress has not. The Trump administration has been criticized for threatening to pull funding for insurance subsidies — key funding that keeps some private insurers operating in the individual health insurance market.
ESPN suspended Jemele Hill after she tweeted that fans should boycott the Dallas Cowboys and their advertisers if they disagree with owner Jerry Jones. Her comments came after Jones said he would bench players who kneel during the national anthem. Trump weighed in, saying Hill has sent ESPN's ratings down. He also questioned whether the NFL should receive generous tax breaks.
Environmental Protection Agency head Scott Pruitt will roll back Obama's signature climate change rule that targeted emissions from fossil fuel power plants, particularly coal.
Progressives are angry that Sen. Dianne Feinstein (D-Calif.) is running for re-election. (She confirmed she's running again on Monday.) She may face a serious primary challenge.
Newly released emails obtained by the Wall Street Journal appear to show the meeting between Donald Trump Jr., Paul Manafort and a Russian attorney last summer was indeed about repealing the Magnitsky Act — a U.S. law targeting Russian human-rights abuses — and not about damaging Hillary Clinton's campaign.
A running list of Democrats pledging to return campaign money given by Harvey Weinstein.
Twitter has prevented Rep. Marsha Blackburn (R-Tenn.) from promoting her Senate campaign announcement video because of her comments about Planned Parenthood allegedly selling body parts. Planned Parenthood never faced charges over that claim, though Blackburn led the investigation into the group in 2015.
Today's MicBite:
In Las Vegas, a community garden has already opened to honor the 58 victims of the mass shooting there last week. Tap or click the video below to watch.