Trump continues his feud with "Liddle Bob Corker," says 'New York Times' made him look like a "fool"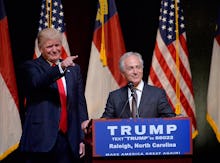 President Donald Trump is back at it again in his slap-fight with Bob Corker.
On Tuesday morning, Trump fired the latest shot in the war on words, mocking the Tennessee Republican as "Liddle Bob Corker" in a tweet accusing the senator of being set up by the New York Times.
Trump was referring to an interview Corker gave to the Times published Sunday in which he said Trump "concerns" him.
"He would have to concern anyone who cares about our nation," Corker told the Times, adding that his reckless behavior could lead to World War III.
Trump had slammed Corker in tweets earlier Sunday, claiming that he had unsuccessfully "begged" the president for his endorsement and was "stand[ing] in the way of our great agenda" as a result.
Corker clapped back that day, lamenting that the White House had become "an adult day care center."
The Trump administration disputed Corker's assessment, calling his Twitter retort "incredibly irresponsible," but a report in Politico on Tuesday morning suggested that Corker was correct in his depiction of the White House.
"Publicly, the White House has pushed back against Tennessee Republican Sen. Bob Corker suggesting Trump must be managed like a toddler," Politico reported. "But interviews with 10 current and former administration officials, advisers, longtime business associates and others close to Trump describe a process where they try to install guardrails for a president who goes on gut feeling — and many days are spent managing the president, just as Corker said."
Corker, who is retiring, has been speaking more freely than his other Republican colleagues on Trump.
But Rep. Charlie Dent (R-Pa.), who is also leaving the Hill, told MSNBC that Corker has "brought voice" to concerns within the party about Trump that often go unexpressed.
"I think more of my colleagues should speak up," Dent said. "They say things privately that they don't say publicly."
Corker, according to the Times' Jonathan Martin, is now "staging a slow-rolling public intervention" with Trump — and, contrary to what the president claimed in his Tuesday tweet, the Tennessee Republican apparently recorded the interview himself.