Black man beaten by white supremacists in Charlottesville will face felony assault charges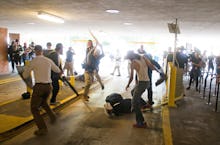 DeAndre Harris was beaten in a Charlottesville parking garage in a brutal August attack that was captured on video. Now he's facing a felony charge for assault.
After a planned white nationalist rally devolved into clashes between attendees and anti-fascist activists, unmasked white men chased 20-year-old Harris, who is black, into a parking garage near the Charlottesville police station. Footage of the incident shows at least six men descending upon Harris and beating him repeatedly with wooden sticks — attacks which later resulted in a spinal injury and a head laceration that would require 10 staples, his attorney, S. Lee Merritt, told the Washington Post.
But on Monday, Harris was served an arrest warrant for a felony assault charge stemming from the skirmish.
According to the Post, the charge was brought by a man identified as Harold Ray Crews, who claims to have been injured by Harris during the melee. In an unusual move, the charge was handed down by a local magistrate rather than the Charlottesville Police Department.
Merritt insists that his client is being targeted in a "clearly retaliatory" move.
"We find it highly offensive and upsetting, but what's more jarring is that he's been charged with the same crime as the men who attacked him," he said.
Merritt added that his client plans to turn himself in to the police in the coming days.
Of the men captured on film beating Harris, two were later arrested and now face the same felony charge that Harris received: malicious wounding.
One of the men, 33-year-old Alex Michael Ramos, was discovered by police after he posted a Facebook status related to his involvement in the incident. In a subsequent television interview, he resisted the "white nationalist" label.
"I was there because, pretty much, I'm a conservative," he said at the time. "There were some non-racist members who were going to a free speech rally."
Writer and activist Shaun King has been actively investigating the incident, reporting via Twitter on Tuesday that local police had actually declined to issue any charges initially and calling the whole series of events "very nefarious."
"Local police are now in a position to enforce a warrant they expressly told me they don't believe in," King wrote in a subsequent tweet. "America. 2017."