It's not just wine country, Napa's immigrant communities are being threatened by wildfires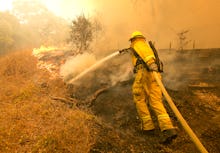 As wildfires continue to tear across Northern California, killing more than 11 people and forcing evacuations, much has been written about the damage to the area's wine industry, located in Sonoma and Napa counties. However Napa is also home to tens of thousands of immigrants who work in nearby vineyards and in the wine country service industry — are they're at risk of losing their homes, jobs and safety nets to the wildfires.
According to Randy Capps, director of research for U.S. programs at the Migration Policy Institute, Napa County had some 33,000 immigrants in 2015, which made up about 23% of the county's population. "I don't think most people realize that, like the rest of California, [Napa County] has a large immigrant population," Capps told Mic on Tuesday.
"That immigrant population, of course, works in the vineyards, works in the wineries, works in the hotels and restaurants, and is a pretty substantial share of the total population of the county."
About three-quarters of the county's agricultural workers and a third of hospitality workers are immigrants, Capps said. As the wildfires moving across Northern California destroy vineyards and farms, they're also destroying jobs. "That loss of jobs is going to hit the immigrant labor force pretty hard," Capps said.
Housing is another issue, according to Capps. "Housing is already very scarce and expensive, and housing's already been a problem for the immigrant population in Napa County for some time," Capps said.
If immigrants lose their homes to the wildfires, they may be forced to settle outside of Napa County, in the less expensive Central Valley — meaning they'll have even greater distances between the places where they live and the places where they work.
Undocumented immigrants may face even greater challenges, Migration Policy Institute spokesperson Michelle Mittelstadt told Mic on Tuesday, especially when it comes to accessing available services.
Somewhere between 10,000 and 12,000 of the immigrants in Napa County are undocumented, or around a third of the immigrant population. Undocumented people are, "as a rule," less likely to seek out services for which they're eligible, Mittelstadt said.
However both Napa Valley and the state of California have taken steps to protect undocumented immigrants, which "might blunt some of the concerns unauthorized immigrants might have over engaging with government agencies," although she said it was hard to say for sure whether that would be case.
The wildfire damage is still ongoing — on Monday the Los Angeles Times reported that the "destructiveness of the fires" had "shocked officials." In Santa Rosa, California, in Sonoma County, wildfires destroyed entire neighborhoods.
Past research has shown that vulnerable populations suffer more in natural disasters, as the Atlantic reported in 2015, often because they lack the resources necessary to rebuild homes, or aren't aware of what aid programs are available to them.
However Capps seemed optimistic that the recovery effort in Napa County would help mitigate the harm to the area's most vulnerable residents. "I think because it is such a close knit community with such great material resources to help out that the response will be very robust," he said.