'New York Times' to Trump: No, we didn't set up Corker by recording explosive interview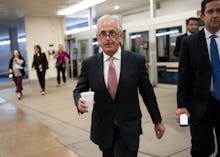 The New York Times on Tuesday pushed back on President Donald Trump's unfounded claim made in an early morning tweet asserting that the paper set up Tennessee Sen. Bob Corker "by recording his conversation."
Corker, who announced his retirement in September, took Trump to task in a no-holds-barred interview that appeared in the Times on Sunday. In the interview, he said Trump was putting the country "on the path to World War III," and that Trump was treating the presidency "like he's doing The Apprentice or something."
Trump, referencing the Times' recorded interview with Corker (of which audio excerpts were released Monday), tweeted Tuesday that Corker "was made to sound a fool," and that the Times set up Corker by secretly recording the conversation.
Jonathan Martin, the Times' national political correspondent who conducted the interview with Corker, disputed the claims in a post Tuesday.
"Far from being set up, Mr. Corker asked that I tape our conversation," Martin wrote, adding that he recorded the conversation "to ensure accuracy."
And once the interview was finished, Corker's two aides checked to see that Martin had recorded it, Martin said.
"Like the senator, they wanted to ensure his extraordinary charges were precisely captured," Martin wrote.
Trump has twice lashed out at Corker since the interview was published. In a string of tweets on Sunday, Trump alleged that Corker "begged" him to endorse him for re-election, and that Trump refused. (Reporters have since reported that Trump told Corker "multiple times" that he would endorse him if he ran again.)
Corker responded to those tweets Sunday.
"It's a shame the White House has become an adult day care center," he tweeted.