Mic Wakeup: New Harvey Weinstein allegations, NFL anthem dust-up persists and Trump nicknames Corker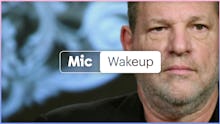 Good morning. Here's what you need to know heading into your Wednesday.
Weinstein accused of rape in harrowing report
An explosive new report in the New Yorker on Tuesday chronicled decades of sexual assault on the part of Harvey Weinstein, the disgraced Hollywood mogul whose history of sexual misconduct was outlined in a New York Times exposé last week.
The Times' initial piece, published Oct. 5, revealed allegations of sexual harassment by the powerful producer over the course of many years. But Tuesday's New Yorker story went even further, with a number of actresses — including Italian actress and director Asia Argento — accusing him of forcible sexual assault.
The report also included a disturbing audio recording of Weinstein attempting to force model Ambra Battilana Gutierrez to enter a hotel room while he showered and admitting to groping her the previous day.
"I'm a famous guy," he tells her in the recording.
This is big. Weinstein has been fired from his company, but the revelations have rippled through Hollywood and beyond. The Times and New Yorker reports have shed light on both Weinstein's predatory behavior and an industry that looked the other way — or, perhaps, covered it up. Weinstein's liberal activism has also forced a reaction from the political world, where Hillary Clinton, who received political donations from the Miramax cofounder, said she was "shocked and appalled" by the big-time Democratic donor's history.
Goodell: NFL players should stand for the anthem
NFL commissioner Roger Goodell implied Tuesday that he may require players to stand for the pregame national anthem — a move that would represent a win for President Donald Trump in the culture war he launched last month against athletes protesting racial injustice.
Telling team owners in a letter that the NFL believes "everyone should stand for the national anthem," Goodell suggested the league could propose a rule in an upcoming meeting that would prohibit players from taking a knee during the anthem.
Why's this important? The news comes as ESPN, another target of Trump's criticism, suspended host Jemele Hill for her measured critique of Dallas Cowboys owner Jerry Jones, who — just weeks after kneeling with players before "The Star-Spangled Banner" in an empty gesture of "unity" — said he would bench any member of the Cowboys who does not stand for the anthem.
Taken together, all of this serves to suggest that the powers-that-be in the sports world are bending to Trump's racially charged attacks on the "son of a bitch" athletes who choose to #TakeAKnee.
Trump continues feud with "Liddle Bob Corker"
Outgoing Sen. Bob Corker has a fun new nickname, courtesy of Trump.
The president fed the ongoing feud in a Tuesday tweet, calling the Tennessee Republican "Liddle Bob Corker" and saying the New York Times made him look like a "fool" in a recent interview.
Corker told the paper over the weekend he was "concerned" about Trump's reckless behavior in the White House, warning that he could be on his way to starting World War III.
So what? That Trump is in a feud is nothing new. He gets into these altercations frequently, with everyone from Rosie O'Donnell to his own close allies. Nevertheless, his back-and-forth with Corker, who tweeted over the weekend that the White House had become an "adult day care" center, has seemingly brought to light feelings many Republicans express in secret.
"I think more of my colleagues should speak up," Rep. Charlie Dent (R-Pa.), who is also retiring from Congress, said over the weekend. "They say things privately that they don't say publicly."