The complicated history of Russians in San Francisco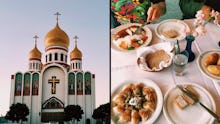 Beloved destinations often have overlooked histories. Mic dives into how the past shapes what travelers see today.
Five miles west of downtown San Francisco, gilded onion domes rise against the angular skyline shimmering in the distance. Holy Virgin Cathedral, a Russian Orthodox church, has been an unmistakable landmark in the city's Richmond District since its construction in 1965. More than half a century later, it continues to serve as the Russian community's spiritual and educational hub.
When you overhear Russian on the sidewalks of the Richmond, it's not an oddity but a sign of a dynamic community. The collapse of the Soviet Union and the Bay Area's economic booms have led to several waves of Russian immigration to this bustling enclave within San Francisco. At 2.1 square miles that stretch nearly 50 blocks, the Richmond is among the city's larger districts, though most Russian businesses cluster around Geary Street. By some estimates, the city's Russophone population is 30,000, with half living in the Richmond alongside the neighborhood's prominent Chinese and Irish communities.
From Siberia (and Shanghai) with love
Though Russian-speaking fur traders and other settlers were already living in northern California in the 18th century, the first significant wave of Russian immigration to San Francisco took place after the Russian Civil War ended with the Bolsheviks' victory in 1921. Aristocrats, intellectuals and officers of the Imperial Russian Army fleeing the Bolsheviks arrived in droves, sometimes by way of Asia. After World War II, another wave followed when the sizable Russian émigré community in Shanghai and Harbin fled China when the déjà vu threat of a communist takeover loomed. And then, a third wave: Just as the baby boomers were exiting San Francisco in the late 1970s as part of the larger American urban flight, refugees from the Soviet Union — many of whom were Jews — began settling in the Richmond, having been attracted to the bakeries, social groups and other infrastructure catering to Russian speakers.
Katia Troosh was among the second wave. Her maternal grandfather settled in China in 1899, and she was born there. Her family left Shanghai in 1949 and eventually arrived in San Francisco by way of Bangkok. For the past 23 years, she has been running Katia's Tea Room.
Troosh serves a variety of zakuski, or "little bites" like beet vinaigrette salad and eggplant spreads, and classics like beef stroganoff and cream-filled blinchiki (crepes). Arm slung on the back of her chair, she likes to sit by customers and chat endlessly.
"There's a ton of Russians here. I see them everywhere," Troosh said in an interview, calling her community "a kind of invisible minority." As customers pour in, a musician named Sasha takes to the corner with an accordion-like balalaika and plays folks songs and requests. "Old-school stuff. None of that Bieber and Madonna crap," he said.
Troosh wants to close the restaurant soon to spend time traveling to Russia and writing a cookbook. "Of course, I'll miss one thing — talking to my customers," she said, before greeting another table of four elderly diners and switching back to Russian.
A troika of migrations
"I know for a fact, since I grew up here, that a lot of people in the community moved [from San Francisco] to the suburbs — that's just what people did then," Nina Bogdan, a Richmond-born translator, said in a phone interview. "But because of the subsequent waves that came, the Richmond has stayed vibrant." Bogdan is currently writing a dissertation on the history of Russian immigration to the United States.
The generation of third-wave Russian San Franciscans, who've experienced both life in the Soviet Union and the San Francisco tech booms, congregate at eateries like The Red Tavern. It's the kind of place where sullen waitresses trained in the Eastern European school of hospitality will unceremoniously drop your plates of pan-fried potatoes, smoked sturgeon and golubtsy (stuffed cabbage) on the table without a smile. Large groups of diners take their sweet time, standing up and making toasts in Russian during meals that stretch for hours.
"Because the Soviet Union encompassed different republics, many in Central Asia also consider themselves culturally Russian," Bogdan said. "The definition can be really fluid."
At Moscow Tbilisi Bakery around the corner, for instance, visitors often hear fluent Russian from a shopkeeper who could be blond or look East Asian. The bakery specializes in various sweets, with poppyseed rolls and Georgian-style flaky pastries rounding out the offerings; you can also take home a bag of frozen pelmeni (dumplings). But the most popular item are piroshkies, or fried dough with fillings like beef and mushrooms.
In good spirits
The urban cacophony of Geary Street fades away the moment visitors step through the golden doors of Holy Virgin Cathedral, underneath frescoes depicting saints. For the community's non-Jewish members, Holy Virgin Cathedral remains the symbolic and spiritual heart. For visitors, this is the most scenic sight. A sign, both in Russian and English, welcomes non-worshipers to the orthodox church.
Buried within the church walls are the relics of St. John, also called the "miracle worker" of Shanghai and San Francisco — an apt moniker, given the community's ties to the Far East and, coincidentally, its proximity to the Chinese community here in San Francisco. The foyer leads into a cavernous hall filled with exquisite icons, mosaics and frescoes. As Orthodox services require attendants to stand, there are only a handful of pews pushed against the back of the hall, leaving most of the space open for ambling when there is no service.
An older woman in a headscarf saunters from one painting of a saint to another, crossing herself at each stop. The air is pleasantly bittersweet with incense.
Like in any other immigrant enclaves, how this community will develop in the coming decades is as good as anybody's guess. For now, it remains a vibrant neighborhood with many youngsters who will carry on the legacy, albeit in different ways than their parents or grandparents did. Sitting in the back, another woman closes her eyes in prayer. A preteen next to her, probably her daughter, engages in her own form of ethereal communication: texting.