White nationalist alliance plans "White Lives Matter" rally for Tennessee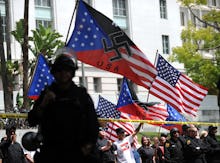 When the Nationalist Front first formed in 2016, they united the fledgeling white nationalist groups scattered across the U.S. under a banner of common values: traditionalism, anti-capitalism and the achievement of a white ethno-state. The last time they met — in Charlottesville, Virginia, as a part of the "Unite the Right" rally in August — it brought the subject of white nationalism into the public consciousness like no other rally yet this century.
And now, they're coming together again.
On Oct. 28, the Nationalist Front will descend on the small town of Shelbyville, Tennessee, for a "White Lives Matter" rally. It will be the first of many anti-immigration rallies in Tennessee, and will bring together a collection of nationalists, Confederates and neo-Nazis.
Where "Unite the Right" was an attempt at building a broad coalition of far-right groups with disparately virulent feelings about race and immigration, the White Lives Matter rally will bring together a smaller, more coherent group that uniformly advocates for a independent white nation.
"It's an exciting opportunity to come together — a gathering of the clans, like the Scots would do," Matthew Heimbach, the leader of the Traditionalist Worker Party and one of the nation's foremost white nationalist thinkers and organizers, said in an interview Tuesday.
Another rally is planned that same day for nearby Murfreesboro, where a mosque was vandalized with graffiti and strips of bacon in July. The Traditionalist Workers Party says the event "isn't optional."
By the terms laid out in its own manifesto — which every member group must agree on — the Nationalist Front is anti-capitalist, anti-finance, and anti-bourgeois. It wants a nation that, like many fascist groups of 20th-century Europe, transcends leftist and right-wing ideology and "promotes jobs with justice, the self-sufficiency of the nation and class cooperation between workers and the wealthy."
"We want an independent free nation for our people, but not one that still lives under the boot heel from global capital," Heimback said.
But central to the Nationalist Front is the creation of a white ethno-state, and the idea that nations are built on "blood, culture, language and traditions." More directly: that this nation should be whites only.
Part of the inspiration for the upcoming rally was a recent shooting in which a local named Emanuel Samson allegedly opened fire at a church in Antioch, Tennessee, killing one. Samson is a Christian and a legal resident of the U.S. from Sudan, but the League of the South referred to Samson as a Sudanese refugee in its announcement for the event. They also claim, without evidence, that Samson went to the church that day in "retaliation for the Dylann Roof shooting in Charleston."
Though the term "neo-Nazi" is often deployed broadly to describe some outcroppings of recent far-right activism, describing the groups holding the White Lives Matter rally requires less caution. Besides Matthew Heimbach, the speakers will include Jeff Schoep of the National Socialist Movement and Dillon Hopper from Vanguard America, a "blood and soil" white nationalist group that stylizes itself as a militia.
While American flags and Confederate battle flags are welcome at the rally, the only reason cited for for not allowing swastikas is bad "optics." Organizers are still determining whether they'll encourage attendees to bring weapons, as they did in Charlottesville.
In Charlottesville, Boston and Berkeley, California, public officials often did all they could within their legal power to prevent recent spate of far-right rallies, rallies that often fizzled before they began. Events in Berkeley and San Francisco were cancelled by their organizers before they began, and an August "Free Speech" rally was drowned out by thousands of counterprotesters.
But the League of the South said it specifically chose Shelbyville so that they could hold a rally uninterrupted by liberal politicians and declarations of unlawful assembly. The white nationalists behind White Lives Matter look to the broader American south and see a safer haven for their demonstrations in solidly red states and counties.
"In Charlottesville, we had to deal with a Democrat governor, a Jewish mayor, a black city manager and a black police chief in a place that had proclaimed itself the 'Capitol of the Resistance,'" representatives from the League told Hunter Wallace, a prominent white nationalist blogger, as part of the event announcement.
But already, counterprotesters are organizing across Tennessee to hold a demonstration against the White Lives Matter rally.
"We have shown that we can exponentially beat their numbers when we organize as a community," the Tennessee Anti-Racist Network wrote on the Facebook page for the counterprotest. "And laughing and humiliating them off the streets is not so difficult! We support nonviolent protest!"
"Come and make Charlottesville 2.0 a failed reboot."