How the 'New York Post' smeared an actress who accused Harvey Weinstein of sexual harassment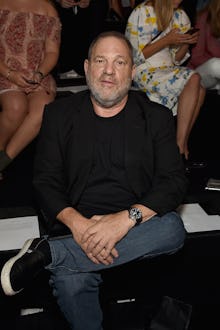 While facing sexual harassment allegations in 2015, Hollywood mogul Harvey Weinstein received some help from the New York Post's gossip section, Page Six. The paper ran a series of stories day after day that smeared the Italian actress making the allegations and attacked her credibility.
More than two years later, those allegations made by the model and actress, Ambra Battilana Gutierrez — who alleged that Weinstein groped her breasts and put his hand up her skirt — are back in the press following a pair of bombshell articles in the New York Times and the New Yorker that share stories from numerous women who allege Weinstein harassed, and in some cases, assaulted them.
The New Yorker on Tuesday detailed Gutierrez's allegations as part of a widespread investigation into allegations against Weinstein made by 13 different women. As part of its investigation, the New Yorker published an audio recording of Weinstein and Gutierrez, which she recorded on a hidden microphone as part of a sting operation by the New York Police Department, according to the report. In it, Weinstein can be heard admitting that he groped Gutierrez, saying that he was "used to" behaving that way.
But in 2015, when that audio was not available to the public or to the press, Gutierrez's account — and her character — was roundly attacked by the Post, which ran a series of articles questioning her credibility, while implicitly defending Weinstein.
Those articles, which were published in late March and early April 2015, were accompanied by extremely revealing photographs of Gutierrez, referenced her "lingerie shots from various modeling gigs," and included a series of claims that suggested her account of the alleged assault was not to be believed.
A spokesperson for the Post did not immediately return a request for comment on the stories. The reporters whose bylines appeared on the articles — including Danika Fears, Mara Siegler, Shawn Cohen, Emily Smith and Maria Wiesner — did not respond to requests for comment.
The first time the Post covered the story, Gutierrez was featured on the front page, with a teaser that, quoting someone from "Weinstein's camp," who called her a "would-be-extortionist." The Post was also first to identify Gutierrez as Weinstein's accuser. The Post's rival tabloid, the New York Daily News, first reported that Weinstein was being accused, but did not identify Gutierrez as the alleged victim.
The following day, the Post's front page included a scantily clad photo of Gutierrez, with the headline: "Secret life of Harvey's shy accuser."
Two days later: There was another front page story, this time claiming Gutierrez tried to use her harassment allegation to get a role in a Weinstein film.
The articles were similarly disparaging.
"Model who accused Weinstein of molestation has sued before," read one online headline, which accompanied an article that began with the sentence: "This stunner is no stranger to sexually charged lawsuits."
"Model asked for film role from Weinstein after molestation claim," read another article, which also alleged that Gutierrez "refused to 'cooperate' with authorities for four days."
"Model attended Weinstein show day after alleged 'grope'," was the headline of another article, which began:
"The beautiful Italian model who claims she was traumatized by Harvey Weinstein's wandering hands wasn't upset enough to surrender a primo seat for his new Broadway show — which she attended less than a day after the alleged incident."
In the series of articles, Page Six published quotes from anonymous sources who called Gutierrez "an opportunist" who was neither "an ideal victim" nor "a serious victim." In another article, an unnamed source in the second paragraph accused Gutierrez of "blackmail."
When Page Six reported on the contents of the now-infamous audio recording, the Post defended Weinstein's alleged actions:
"Weinstein did not deny that he grabbed her breast — but would be able to argue that it was appropriate because as a producer he would need to know if her breasts were the real deal."
Since the New Yorker piece, and other articles in the New York Times, more and more women, including actresses Cara Delevingne, Gwyneth Paltrow and Angelina Jolie, have come forward to allege that Weinstein harassed them. Nearly two dozen women so far have accused Weinstein of sexual harassment or assault as of Thursday.