Hannity blasts liberals for Harvey Weinstein hypocrisy, days after having Bill O'Reilly on his show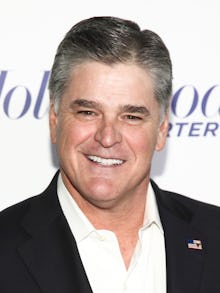 Fox News host Sean Hannity went on a 10-minute tirade against "liberals" for their relationship with Harvey Weinstein, the disgraced movie producer whose career went up in flames following reports of widespread sexual assault and rape.
"A Fox News alert, the left's massive inexcusable hypocrisy continues to be exposed as new," Hannity said, kicking off his show Tuesday night, after new allegations against Weinstein had been reported.
"Hollywood liberals, Democrats are only slowly starting to condemn Weinstein. It's five days later," Hannity continued. "Hillary Clinton, who has accepted tens of thousands of dollars from Weinstein, is finally now denouncing him after a deafening silence."
Hannity's claims of hypocrisy from the left come just days after Hannity welcomed disgraced former Fox News host Bill O'Reilly back on his program.
O'Reilly was fired from the Fox News network in April, after the New York Times uncovered millions of dollars Fox paid to women who accused O'Reilly of sexual assault over the years.
"Come back. Will you come back?" Hannity asked O'Reilly on his show.
Hannity has also praised late Fox News founder Roger Ailes, who was ousted from Fox News in 2016 after former Fox News anchor Gretchen Carlson kicked off a torrent of women coming forward to accuse Ailes of sexual harassment.
When Ailes died in 2017, Hannity called him a "great patriotic warrior" with "endless enthusiasm, energy, wit, humor and raw instinctive intelligence."