A brief history of Mark Zuckerberg's occasionally problematic global outreach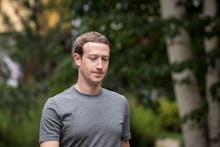 Few tech CEOs have donated to charity like Mark Zuckerberg has. The billionaire, alongside his wife Priscilla Chan, aren't shy about sharing their funds: the two have given $120 million to San Francisco area schools, $25 million in the fight against ebola, $75 million to San Francisco General Hospitals and more.
While Facebook's fearless leader is generous with his wallet, he occasionally slips up when dealing with the world outside Silicon Valley. See: Zuckerberg's recent virtual reality demo touring Puerto Rico after the damage wrought by Hurricane Maria.
It's not all bad, but it isn't all good either. Here are some of Zuckerberg's travels, his relationship with foreign countries and how cringeworthy they may or may not have been.
Zuckerberg and Facebook donate $1.5 million to Puerto Rico
When Hurricane Maria hit, Zuckerberg posted to Facebook saying the company would give $1.5 million to two charities: NetHope and World Food Programme. The former organization helps tech companies donate to countries in need while the latter helps provide food through the United Nations.
Zuckerberg also urged Facebook users to donate their own money as well. Through the post's Save the Children link, users were able to give to the relief efforts. Zuckerberg's post, so far, has raised over $100,000.
Zuckerberg takes a tone deaf VR tour of Puerto Rico
Zuckerberg has shown his ambition of teleporting users around the world via virtual reality. An early look of this tech came from 2016's Oculus Connect, in which he showed how users could watch videos and play games together. In a more recent presentation, the Facebook CEO joined VR chief Rachel Franklin to tour a hurricane-ravaged Puerto Rico.
Many found the virtual tour through the devastation that hit Puerto Rico insensitive, leading to the CEO releasing a statement the next day. According to the Verge, Zuck said, "When you're in VR yourself, the surroundings feel quite real. But that sense of empathy doesn't extend well to people watching you as a virtual character on a 2-D screen. That's something we'll need to work on over time."
Mark Zuckerberg and Priscilla Chan donate $3 billion to fight disease
Zuckerberg and his wife Priscilla Chan are putting the majority of their shares in Facebook toward giving to charity. Over 10 years the two will give $3 billion to fighting diseases. The Chan Zuckerberg Initiative also has initiatives to aid in better education.
Zuckerberg fears sickness during trip to Uruguay
Zuckerberg's travels to Uruguay in 2016 came with a list of very specific requests. According to local publications, via Gawker, Zuck requested that the pets on the property where he stayed be taken to the vet because some in his group were allergic. In addition, the property was scrubbed clean with chemical products, guards were hired and all the furniture was "removed and replaced," Gawker reported.
Zuckerberg embraces China's language and culture
Zuckerberg loves his wife's parent's home country China, maybe because the country has over a billion people who are not using Facebook yet.
The Facebook CEO has been studying Mandarin and even gave a speech at Tsinghua University in the language. Zuck has met with Chinese President Xi Jinping and communist party member Liu Yunshan. Many believe that Zuckerberg desperately wants to get Facebook unblocked in China.
Zuckerberg goes for jog without face mask, asks China's president to name his baby
Zuckerberg's love for China may kill him. The CEO merged his love for China with his plan to run a mile a day for a year. However, smog in Beijing is so bad that wearing a face mask when running is standard fare in the country. Zuckerberg's choice to jog without it stirred many debates over air pollution in the country. "The pollution in Beijing is so bad today that most people won't even go outside without face mask on," says one Facebook commenter, "and this guy takes a jog past Mao Zedong like he doesn't have a care in the world." Some deemed Zuck's health-risking run a "smog jog."
Zuckerberg also asked that Xi name his first child. The president denied his request.
Zuckerberg builds a wall around 700-acre Hawaiian estate, sues locals
Zuckerberg's love of Kauai led the CEO to buy property in Hawaii. The 700-acre, $100 million property is where the Zuckerberg family hangs their hat, and surrounding the property is a 6-foot stone wall. In addition to this, Zuckerberg sued hundreds of locals that may have owned small parcels within the bounds of his estate. According to the Guardian, some charged the billionaire with neocolonialism.
Zuckerberg's social network seeks to bring the internet to the world — sort of
Internet.org, founded in 2013, is Facebook's effort to spread internet access to the places currently without it. Facebook notes that 4.5 billion people are still without internet. The initiative has connected more than 40 million people to the internet thus far.
While the mission of getting the world the internet is a humble one, more internet users also means more potential Facebook users, more people it can collect data on and more people using the company's specifically selected favorite apps — which has plenty of bad implications regarding a neutral internet. If Facebook can get those in remote regions online and using their version of the internet, especially before Google gets to them, it's a win for Zuck.