Eminem just released a 4-minute rap slamming Donald Trump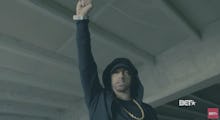 Rapper Eminem is back — back again — with a four-minute rap criticizing President Donald Trump for everything from his extravagant travel to his response in Puerto Rico to his attacks on NFL players who are taking a knee during the national anthem.
The video, which played during Tuesday night's BET Hip Hop Awards, had more than 4 million views on YouTube on Wednesday morning.
In it, the Detroit-based rapper paces around a parking garage, slamming Trump with pointed lines like, "He says he wants to lower our taxes, then who's going to play for his extravagant trips back and forth with his fam to his golf resorts and his mansions?"
Eminem also touched on the openly white supremacist gatherings in Charlottesville, Virginia, ("tiki torches in hand") and Trump's recent focus on tweeting about NFL players ("But this is his form of distraction, plus he gets an enormous reaction when he attacks the NFL, so we focus on that instead of talking Puerto Rico or gun reform for Nevada. All these horrible tragedies and he's bored and would rather cause a Twitter storm with the Packers.")
Former White House adviser Steve Bannon and Hillary Clinton were both mentioned by name — and Eminem also expressed support for former San Francisco 49ers quarterback Colin Kaepernick, who launched the #TakeAKnee protest against police brutality.
"Fuck that, this is for Colin, ball up a fist and keep that shit balled like Donald the bitch," Eminem raps while holding up a raised fist in the video.
Kaepernick responded on Twitter Tuesday night, tweeting out a link to a clip of Eminem's video with the message "I appreciate you @Eminem," along with a fist emoji.
One of the strongest messages in Eminem's rap was directed at any of his fans who might also support Trump — to them, Eminem said "Any fan of mine who's a supporter of his, I'm drawing in the sand a line. ... You're either for or against, and if you can't decide who you like more, and you're split on who you should stand beside, I'll do it for you with this," at which point he held up his middle finger to the camera.
Trump, who has, in the past, tweeted out responses to celebrities and public figures who've criticized him, has not yet offered any response to Eminem's latest video.