Save money on college: FAFSA deadline 2017, requirements, calculator & other key questions answered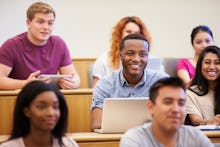 The cost of one year at an in-state, four-year college keeps rising each year — surpassing $20,000 during the 2016-2017 school year, according to the College Board. That's quite the chunk of change, and unless your family is wealthy or started saving big at birth — you're likely going to need an assist when it's time to pick up that tab.
Yet few people submit the "Holy Grail" college financial aid documentation — the Free Application for Federal Student Aid, or, as it's more commonly known, the FAFSA — which opened to applications early in 2017, this Oct. 1. Maybe you have already started by using the FAFSA4caster calculator, an early eligibility estimator to help you plan ahead how to pay for college? If not, there's a good argument to check out the eligibility requirements and get moving.
That is because about $2.3 billion in financial aid was left on the table by last year's college-bound seniors, a recent NerdWallet analysis found. The company arrived at that figure by comparing the number of high school graduates who did not fill out the FAFSA, state and federal financial aid data, and an estimate of how many of them may have been eligible for Pell Grants.
The company also estimates that each of those students who didn't fill out the form would have netted $3,583 on average. Grants, unlike loans, do not need to be paid back by the student.
"It's a huge discrepancy," said Kelly Peeler, the CEO of NextGenVest, a startup that helps mostly low-income kids fill out their forms and find scholarships via text message. "The average ratio of guidance counselors to students nationwide is 1 to 500 students ... It's impossible for that one counselor to hold everyone's hands while they fill out somewhat complicated tax forms."
Want to get organized? First, know your deadlines: For the 2018 to 2019 school year, you can apply for federal aid between Oct. 1, 2017, and June 30, 2019. For the 2017 to 2018 year, you can also still apply until June 30, 2018. State and college deadlines vary: More information is on the federal student aid website.
Fortunately, potentially helpful recent changes to the system went into effect this year. This year's seniors will also be able to once again access a popular IRS data retrieval to that shut down temporarily last year due to security issues. Here are three big takeaways you need to know about the FAFSA this year.
1. FASFA now gives you more time to get your ID and fill it out before the deadline
There were a two major changes to the FAFSA this year, and both of them are related. The first, and by far most important, was moving up the earliest date you could submit your forms from Jan. 1 of 2018 to October 1, 2017.
Because you'll be submitting financial aid forms for next year before your parents have likely paid their taxes, students can also begin applying for financial aid using tax forms from the previous year.
"It's really a way to get people to fill it out sooner," NerdWallet's student loan analyst Brianna McGurran said. "People assume they will not qualify for financial aid ... There's a sense it's not worth the trouble, and it's true that the form is long."
Otherwise, the FAFSA is still exactly the same. Most likely, all you'll need is proof of income — usually the W2 tax form issued to you by your employer — a social security number, and a FAFSA ID, which you can access through the Department of Education website.
If you have investments or another source of untaxed income, you'll also need to report that. Finally, if you're a dependent, you'll also need the above stats from your parents.
2. But earlier is still better with the FAFSA
Though you will likely have extra time to fill out this year's FAFSA, it would be unwise to take advantage of it, both McGurren and Peeler said.
"Financial aid is like a pizza pie, it's a finite amount and you want to get your slice," Peeler said. "I'm in Chicago right now working on the MAP grant, which is an [Illinois] state grant you get through the FAFSA, and it literally runs out by December."
The example of the MAP grant is extreme, Peeler said, and it has a bit of a reputation for drying up long before the deadline to fill out your forms. Still, even if you're not in Illinois, if you haven't already you should get started.
Schools also may have scholarships and other sources of financial aid of their own that are awarded on a first-come-first-serve basis, McGurren said. Work study, for example, is often awarded on a first-serve basis — though it's also important to remember that work study recipients still have to find their own jobs, and that their pay may vary.
"I would encourage everyone to do it this weekend, if you have 30 minutes," she said. "The biggest mistake is not filling it out, or filling it out late."
3. Don't forget — more student aid deadlines are coming
Despite its importance, filling out the FAFSA is only the first in many, many steps it will take to manage the cost of education before you graduate.
Whatever individual schools you apply to will have financial forms and deadlines of their own and, annoyingly, Peeler said, college financial aid offices usually keep an unhelpful schedule, between 10 a.m. and 3 p.m., when students with questions are likely to be in class.
Many colleges also make prospective students work with two different offices — admissions for questions about whether they get in, and financial aid for questions about how they're going to pay if they do — adding another layer of friction. For that reason, you should take an extra 10 minutes once the FAFSA is finished to set reminders on your phone for any other school-set deadlines that may be harder to track down through the DOE website.
Another good tip? Write your FAFSA IDs and passwords down — like with a pen. Peeler said a lot of students she works with lose them, and setting your FAFSA ID information can take up to two weeks, more than enough time for you to blow through one or two more of your deadlines.
Having that password handy is sure to pay off — at the very least, you'll need it when you fill out the FAFSA again for your sophomore year. Still have more questions? Check out the FAFSA contact page or help section. You might also see Mic's guide to clearing up your biggest student loan confusions.
Sign up for the Payoff — your weekly crash course on how to live your best financial life.