Watch Lindsay Lohan defend Harvey Weinstein in now-deleted Instagram video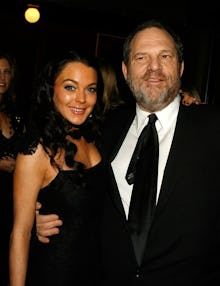 Lindsay Lohan and her mysterious accent are at it again, and this time "it" is an ill-conceived defense of alleged sexual harasser and rapist Harvey Weinstein.
In a now-deleted video posted to her Instagram, Lohan can be heard defending the disgraced Hollywood producer, who has now been accused of some form of sexual assault by more than a dozen women.
"I feel very bad for Harvey Weinstein right now. I don't think it's right what's going on," Lohan says in the video.
Later in the clip, Lohan calls upon Weinstein's wife to speak out against her husband's accusers.
"I think Georgina needs to take a stand and be there for her husband," she says. "And he's never harmed me or done anything wrong to me. We've done several movies together, and I think everyone needs to stop. I think it's wrong."
An angel emoji placed next to Weinstein's name in the second half of the video appears to underscore Lohan's belief in his innocence.
Since a bombshell New York Times report was published containing the first allegations of sexual misconduct, Weinstein has been fired from his Hollywood production apparatus, the Weinstein Company, of which he was a cofounder.
On Tuesday, the New Yorker published a 10-month long investigation into the accusations against Weinstein that contained the accounts of 13 women who claim to have been assaulted by him.