GOP to end rule allowing Dems to block Trump's judicial picks — a rule they pushed Obama to uphold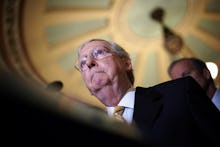 Senate Majority Leader Mitch McConnell is set to toss out a long-standing Senate tradition in order to remove Democrats' ability to object to President Donald Trump's judicial nominees — a move that will allow Trump's picks to be rushed through the Senate confirmation process without a single Democratic vote.
The so-called "blue slip" practice allows a senator to object to a president's judicial nominee if that nominee is from their home state.
In a 2009 letter to then-President Barack Obama, McConnell demanded Senate Democrats follow the rule. If they didn't, McConnell said Republicans would try and block Obama's judicial nominees.
Democrats adhered to the tradition during Obama's tenure, and it's partially responsible for why Obama left office with more than 100 judicial vacancies that President Donald Trump is now trying to fill.
"We hope your administration will consult with us as it considers possible nominations to the federal courts from our states," McConnell, then in the minority, wrote in a letter to Obama. "Regretfully, if we are not consulted on, and approve of, a nominee from our states, the Republican Conference will be unable to support moving forward on that nominee."
But McConnell told the Weekly Standard that he will no longer honor that tradition now that Republicans hold the White House and the Senate.
Instead, the Republican Senate majority will treat blue slips "as simply notification of how you're going to vote, not as an opportunity to blackball."
And since judicial nominees are no longer subject to filibuster rules, the Republican Senate majority will be able to push through Trump's judicial nominees without requiring any Democratic votes.
That gives Trump a major opening to change the federal court system, allowing him to appoint conservative judges who serve as long as they wish.
Trump has already made controversial judicial nominations. They include Jeff Mateer — the first assistant attorney general of Texas who said transgender children are part of "Satan's plan" and defended public officials who refused to grant same-sex marriage licenses, despite the Supreme Court ruling that made those marriages legal.
Senate Republicans already confirmed Trump pick John Bush to the Sixth Circuit Court of Appeals. Bush wrote a blog under a pseudonym in which he questioned Obama's nationality — better known as "birtherism" — and referred to the police beating of Rodney King in Los Angeles in 1993 to a "police encounter," among other things.
Damien Schiff, a Trump nominee for the U.S. Court of Federal Claims, called Supreme Court Justice Anthony Kennedy a "judicial prostitute."