Wildfires are decimating Northern California. Here's what made this blaze particularly dangerous.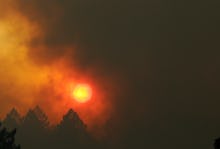 On Sunday, at least a dozen wildfires began tearing through Northern California, many of which are located in the populated areas in and around Napa Valley. Officials say the fires have burned at least 170,000 acres and damaged or destroyed at least 2,000 structures. Current estimates say the fires have killed at least 21 people. Thousands more have evacuated.
California has a notoriously intense fire season in the fall, but this most recent bout has been particularly intense and damaging. The California Department of Forestry and Fire Prevention said it "pumped over 266,000 gallons of fire retardant Monday, shattering the previous record." So, what's causing these fires in particular to be so deadly and dangerous? What's different about this year's fires than others, if anything?
According to Jan Null, adjunct professor at San Jose State University and a certified consulting meteorologist with Golden Gate Weather Services, the fires themselves are not unusual. It's their proximity to such a highly populated area that makes them stand out.
"As far as the total area burned, we've had significantly bigger fires," Null said in a phone interview with Mic. "This is not going to rank as one of the biggest fires. The fact that it occurred adjacent to a metropolitan area, Santa Rosa, which has a population, including the whole metro area, of about 200,000 people — that's when we see these really destructive fires, is when they occur in the wildland interface between wildlands and urban areas."
Of course, that's not to say this network of fires isn't severe. It is. In fact, Null said an alignment of various meteorological factors has contributed to the fires' size and intensity.
"We basically have no rain [in California] between May and through October, sometimes into November," he said. "That dries out all the fuels and all the plant life and everything, so things get very tinder dry this time of year."
That, combined with extremely dry, fast-moving "Diablo winds" that are common to Northern California this time of year, create conditions that make intense wildfires much more likely.
"That's what happened this Sunday night into Monday morning," Null said.
Aside from the meteorological factors, the simple fact that these fires started late at night on a Sunday are likely a contributing factor to the danger they pose to people, too. For example, here is 77-year-old Maureen Grinnell's account of how suddenly the fire seemed to approach her home, as reported by the New York Times.
"We always thought the alert system would give us time, but there was no notice, no warning," Grinnell said. "I was watching a movie with my 19-year-old granddaughter and I smelled smoke, and I looked out the window to see flames approaching."
By the time Grinnell, her husband, granddaughter and their dog loaded into the car and drove away, the house was already on fire — all within the span of "seven to 10 minutes."
"Most of these fires began in the evening hours, around 9 o'clock or so," Null said. "That's not a time of day we often see wildland fires begin. They're typically in the afternoon. People are typically a bit more aware in the emergency service agencies and can start responding at that time. When a fire starts that late in the day, especially on a Sunday night, that's probably going to end up being one of the factors that caused a lot of people to be surprised."
The fires in Northern California are still ongoing, and Null said winds are expected to pick up once again Wednesday evening. Gusts could reach up to 40 mph, according to CNN. The cause of these fires is still unknown.