Want an antidote to toxic reality TV? Watch 'Terrace House.'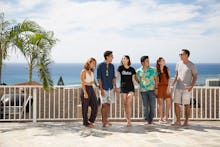 It's not particularly novel to point out that American reality television can be toxic — that's part of why we watch it, after all. But even if you ignore the president of the United States, it's still been a pretty rough few years for reality TV. A Survivor contestant was outed as trans. TLC has had to cancel multiple shows because of controversies involving child molestation. And much of the most recent season of Bachelor in Paradise was spent trying to skirt around the allegations of misconduct that dogged the show after a drunken sexual encounter between cast members DeMario Jackson and Corinne Olympios. Bachelor Nation derives a sort of demented glee from the humiliation (and occasional victory) that comes out of the franchise, but the scandal felt like a splash of cold water, and the overly produced, after-school special quality of the cast members discussing consent on the season premiere rang hollow.
Once this kind of shift happens for an audience, it's hard to undo. "Authenticity" is often just a mildly useful buzzword when it comes to reality TV, but producers still strive to give viewers the sense that what they're seeing is genuine, unscripted human interaction, free of the specter of monstrosity that might make people feel bad about watching. It's a pop culture illusion that requires not only likable cast members, but also careful editing, effective music cues and, perhaps most important, at least some warmth from behind the camera.
Enter Terrace House, a Japanese reality show co-produced by Fuji Television and Netflix (where you can find the two most recent seasons, Boys and Girls in the City and the just-concluded Aloha State). As the show's commentator panel of Japanese actors, comedians and pop stars reminds us each episode, Terrace House focuses on six people living in a house together (in Tokyo in Boys and Girls in the City, in Hawaii in Aloha State), with access to nice cars. That's it. Imagine a version of The Real World where everyone is almost unfailingly kind to each other, and works together to achieve their goals, and you've almost got it.
Over the course of Boys and Girls in the City, which ran for a year between 2015 and 2016, the housemates include an architect, a hat designer, a tap dancer, a chef and a medical student. They're often more focused on their jobs than they are on being on TV, and when appropriate, they help each other with projects: Hansan the architect builds a specialized hat rack to help Arisa, the hat designer, show off her wares. They all go to one of Yuki, the tap dancer's, performances. When they come into conflict, the people in the house stage group meetings to attempt to resolve any disagreement through open conversation. When they become romantically involved, the relationships stick with a much higher frequency than other reality dating shows — and, spoiler alert, their Instagrams are treasures.
Everything has to happen in the course of actual, human-to-human conversation, because Terrace House eschews one of the main tools of American reality TV: the confessional interview. Though there are certainly shows where the petty commentary shared in confessional interviews is funny and engaging (hello, RuPaul's Drag Race), most of the time, they simply serve to reiterate the stakes of the thing you were already watching, and call attention to the constructed nature of the narrative. Why would Corinne feel the need to narrate her attempt to seduce Bachelor Nick otherwise? (It's doubtful that it was because she was so attracted to Nick, the human equivalent of a stock photo.)
Instead, the role of explanatory commentary is filled by the hilarious panel, watching the action from Tokyo and commenting on the show as it airs. (Which is to say, each segment finds the hosts reacting to the material you just watched.) And even the panel on Terrace House feels invested enough in the action to, at least in part, care for the housemates. Taishi, a cast member on Terrace House: Aloha State, joined the house to find "a love worth dying for," prompting the hosts to show up wearing custom-made T-shirts reading "Shinuhodo No Koi," or "a love worth dying for" in Japanese, at a crucial moment in the season. Even the ones who had been mocking him mercilessly for weeks begrudgingly agreed to root for him in his quest for love during the panel segments.
The consistency and intensity with which Taishi pursues his love, and the panel's reaction to it, are indicative of the way the romantic aspects of the show often conform to exceedingly traditional gender norms. (Two of the hosts are, essentially, pervy uncles, and some viewers may find the way they talk about housemates unnerving.) But the other panelists frequently push back against their more curmudgeonly coworkers in ways that make it obvious you don't need to share their views to watch the show — and as far as courtship caricatures go, Terrace House is far less intense, less toxic and sweeter than The Bachelor. The "Shinuhodo No Koi" shirts are not available for purchase through any official platforms: Terrace House nation does it for love of the game.