Help us track all the times pop culture made references to Weinstein's alleged behavior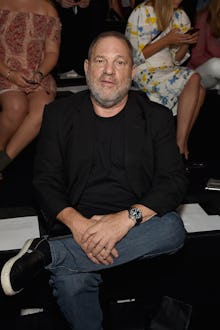 On Thursday, the New York Times published a bombshell story chronicling decades' worth of accusations that Hollywood producer Harvey Weinstein has subjected women to sexual harassment, assault and other predatory behavior. In the wake of its publication, he was fired from his company in disgrace.
To anyone not privy to the so-called "open secret" of Weinstein's alleged behavior, the sheer number and harrowing severity of the accusations was shocking. But moments sprinkled throughout the cultural zeitgeist suggest that some knew — either first-hand or through "whisper networks" — about the producer's alleged treatment of women.
Some of those moments are hidden in plain sight. Others might be more deeply coded. And Mic needs your help to track them all.
If you remember watching or reading something that made a not-so-subtle reference to Weinstein and his alleged actions, reach out to us at tips@mic.com and let us know. Our newsroom will vet them and list them here.
Here's what we've been able to find so far.
TMZ found footage of Courtney Love giving a warning about Weinstein
In a video newly surfaced by TMZ, actor-singer Courtney Love gave young women in Hollywood a warning about Weinstein's alleged behavior.
"If Harvey Weinstein invites you to a private party in the Four Seasons, don't go," Love said on the red carpet for the Comedy Central Roast of Pamela Anderson.
On Saturday, Love tweeted that Creative Arts Agency, one of the most prestigious talent agencies in Hollywood, blacklisted her for her comments.
Asia Argento's says 'Scarlet Diva' contained a scene about Weinstein
In her 2000 film Scarlet Diva, Italian actor-director Asia Argento plays an international it-girl who has been offered the role of a lifetime by a sleazy Hollywood producer. Argento, who accused Weinstein of raping her in a New Yorker exposé published on Tuesday, has all but explicitly stated that the man in the movie is supposed to be the ousted mogul.
As journalist Ronan Farrow writes in the New Yorker:
In 2000, Argento released "Scarlet Diva," a movie that she wrote and directed. In the film, a heavyset producer corners the character of Anna, who is played by Argento, in a hotel room, asks her for a massage, and tries to assault her. After the movie came out, women began approaching Argento, saying that they recognized Weinstein's behavior in the portrayal. "People would ask me about him because of the scene in the movie," she said. Some recounted similar details to her: meetings and professional events moved to hotel rooms, bathrobes and massage requests, and, in one other case, forced oral sex.
Though the vast majority of the major reviews for Scarlet Diva mention its autobiographical nature, none appear to question whether the Hollywood producer was a real person or not. Only one review — published in the A.V. Club — compares the "lascivious American producer" to a real human: Gene Shalit.
Jenna Maroney on 30 Rock
In two separate 30 Rock episodes, Jenna Maroney, a comedienne played by Tony Award winner Jane Krakowski, appears to reference Weinstein's alleged predatory behavior.
"In some ways, I'm still pinned under a passed-out Harvey Weinstein and it's Thanksgiving," Jenna said to a stunned co-worker in the 10th episode of the show's seventh season.
On what appears to be his personal Twitter, Tom Ceraulo, who co-wrote the episode, has tweeted multiple times about Weinstein since news of his alleged behavior first broke publicly. In one tweet, he calls the producer a monster.
In another episode from a previous season, Jenna brags that she rebuffed most of Weinstein's advances.
"I'm not afraid of anyone in show business," she said. "I turned down intercourse with Harvey Weinstein on no less than three occasions… out of five."
Seth MacFarlane's 2013 Oscars Joke
In 2013, comedian Seth MacFarlane made a joke that appeared to reference claims that Weinstein rewarded women who accepted his sexual overtures with career advancement — and punished the ones who did not.
"Congratulations, you five ladies no longer have to pretend to be attracted to Harvey Weinstein," MacFarlane said after reading the names of the women nominated for best supporting actress.
'Entourage''s monstrous movie producer
On HBO's Entourage, a short-tempered, tyrannical movie producer named Harvey Weingard makes life hell for the show's male leads. Here's his meltdown in the seventh episode of the show's second season:
According to the Hollywood Reporter, Weinstein so hated the unflattering depiction that he publicly threatened Kevin Connolly, one of the show's stars, at an event.
"I'm at a party," Connolly once told THR. "Harvey Weinstein just came over and told me to tell my producers they're dead. 'Tell them if they ever mention my name again, they're dead.'" Those lines made their way into an episode during a later season. [Show creator Doug Ellin] said Weinstein called after the episode and said he enjoyed it."
Do you think you've spotted one that we've missed? Email it to us and we may feature it in this story.
October 15, 2017 11:22 a.m.: This story has been updated.