Democratic congressman files articles of impeachment against Trump, but quickly withdrew them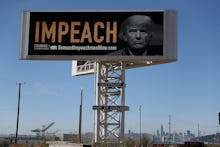 Rep. Al Green (D-Texas) on Wednesday filed articles of impeachment against President Donald Trump, but ultimately decided to withdraw them, saying he wanted to give his Democratic colleagues time to review them.
Green delivered a passionate speech on the House floor in introducing the articles of impeachment, saying Trump "has brought disrepute on the presidency" and is "unfit" to serve.
But he quickly allowed the resolution to be shelved, ending the process for the time being.
"I want my colleagues do what their consciences dictates, as will I, and we'll let history judge us all," Green told reporters Wednesday, according to NBC News.
Green first filed the articles of impeachment as a "privileged resolution" — hoping to force a vote.
However since Republicans control the House, it was extremely unlikely that the impeachment process would have gone anywhere.
As long as the GOP controls the House, it's unlikely the the articles of impeachment would get taken up.
Green — a vocal Trump critic who has led a charge for impeachment since the early days of Trump's presidency — initially said he would file the impeachment articles in early October.
"I rise today, Mr. Speaker, not as a liberal or conservative," Green said in a speech on the House floor on Sept. 27. "I rise today as a proud American ... I rise to announce that on next week, Mr. Speaker, I will bring a privileged resolution before the Congress of the United States of America. I will stand here in the well of the Congress, and I will call for the impeachment of the president of the United States of America."
However Green postponed the filing after the mass shooting in Las Vegas, saying that it wasn't the right time to introduce the bill.
Yet some of Green's Democratic colleagues have appeared weary of beginning impeachment proceedings, with some saying there's not a strong enough case yet.
"What are the facts that you would make a case on? What are the rules that he may have violated?" House Minority Leader Nancy Pelosi said of the impeachment effort during a CNN town hall in May. "If you don't have that case, you're just participating in more hearsay."
Oct. 11, 2017 4:37 p.m.: This article has been updated.