In historic move, Boy Scouts votes to allow girls to join as Cub Scouts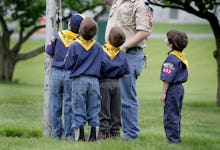 The Boy Scouts of America's board of directors voted to allow girls to join its Cub Scouts program and to develop a scouting program for older girls that will enable them to become Eagle Scouts, the organization's highest rank, the BSA announced Wednesday. The vote was unanimous.
According to a statement from the organization, the "historic" change is a result of "years of receiving requests from families and girls."
However, the group says the programs will still remain segregated by gender, and that, starting in 2018, "Existing packs may choose to establish a new girl pack, establish a pack that consists of girl dens and boy dens or remain an all-boy pack."
Girls are already allowed to join several of the group's scouting programs, including Exploring, Venturing and the "STEM Scout pilot program" according to the group's statement, but girls have never before been offered a path to the rank of Eagle Scout.
In 2015, the Boy Scouts of America lifted a ban on gay troop leaders, and in January, it announced it would allow transgender boys to join as scouts for the first time.
After the group's latest announcement Wednesday, Donald Trump Jr. commented on Twitter, "Strange, I thought that's what the Girl Scouts was for???"
The BSA said that during research to gauge interest in opening up the Cub Scouts to girls, surveys showed high interest among families in sending their daughters to programs like the Cub Scouts and Boy Scouts.
Sydney Ireland, a New York City teenager who's been campaigning to become an official Boy Scout for years, after unofficially attending meetings with her older brother, told NBC News, "I just want to do what the Boy Scouts do — earn the merit badges and earn the Eagle Award."
"The Girl Scouts is a great organization, but it's just not the program that I want to be part of," Ireland said. "I think girls should just have the opportunity to be a member of any organization they want regardless of gender."