How the McVegan can change the way we eat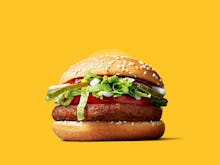 This story isn't McDonald's propaganda. This is about how, whether intended or not, one fast-food menu item has the potential to slow down the detrimental impact the meat industry has on the environment and human health.
While the reception of Friday's announcement that McDonald's would be testing a McVegan burger in five of its Finland restaurants was received with predictable animosity (from McNugget enthusiasts and vegan activists alike), a vegan McDonald's product could impact the planet in a big way.
Feeding 68 million people a day, McDonald's has far-reaching influence potential; if the McVegan or some other plant-based product were to become an international menu staple, the fast food company could ignite a ripple effect on the food industry. "McDonald's may show the way to other fast food restaurants, and they may imitate McDonald's if everything goes well," Tobias Leenaert, author of How to Create a Vegan World and the blog the Vegan Strategist said in a phone interview. It wouldn't be the first time. In 2015, when Mickey D's pledged to use only cage-free eggs by 2025, its competitors had no choice but to follow suit and make the same promise (companies like Burger King, Subway, Nestlé, General Mills, Taco Bell rallied for the cause soon after).
The McVegan also has the potential to reduce our unsustainable meat consumption, in more ways than one. As Leenaert put it, the idealist hope is that for every vegan burger sold, one less meat-based product will be consumed. Even if that's not the initial result, the mere existence of a McDonald's vegan burger serves as advertising for all vegan food. A McDonald's vegan menu item is "important in mainstreaming the whole vegan thing," Leenaert said. "It [tells consumers] vegan isn't a weird or strange thing," and thus, increases the willingness to try vegan. If McDonald's 36,000-plus restaurants promote the word 'vegan,' that's a free education about plant-based alternatives. It boosts awareness that vegan exists, and that the category is not limited to an elite or pretentious class.
McDonald's hardly deserves credit for striving to lead the change in our faulty food system — Christoffer Rönnblad, marketing director of McDonald's Finland, gave zero indication that it was part of the intention. "We try to be very realistic and pragmatic in our approach," Rönnblad said of the test phase. "If it works out, we'll be very happy, and there is the possibility to roll it out."
Plenty of businesses are dedicated to hand-holding consumers through the journey of eating less meat, particularly veggie-centric spots currently crowding the market. Take Tyme, a business launched in July with a mission to change fast food through convenient, cost-efficient meals that just happen to be plant-based. The brainchild of Phil Winser, founder of the Fat Radish in New York City, and former Burger King executive Felipe Hallot, Tyme serves combinations of vegetables, grains and legumes in transparent, resealable jars. Wisner said the goal is to provide "everyday people" with access to affordable, real food. "I didn't want it to be this elite thing," he said in an interview. But at $10 a jar, Tyme can't accomplish what McDonald's can.
Other fast-casual restaurants like By Chloe, Cava, Sweetgreen and Dig Inn have made great strides in getting their customers to move away from the idea that meat has to be the center of the plate at every meal. But these companies, even when combined, can't compare to McDonald's scale, reach and affordability.
McDonald's serving a vegan burger doesn't negate the anti-vegan practices some purport it employs regularly, a gripe that many activists have with the fast food giant earning praise for offering plant-based options. But this is progress. "McDonald's won't disappear or go vegan overnight," Leenaert said. "Change is gradual and we have to accept it." And when McDonald's does lean green (or takes on any food trend, for that matter), "the economic impact reverberates throughout the entire food system," David Sax, author of The Tastemakers, said in a previous interview. "The purchasing size is a signal to the rest of the industry that there's a shift in a collective appetite."
Activists must embrace capitalism in order to see a domino effect of vegan products represented in the market, Leenaert said. "The pioneers eventually get overtaken by the big companies that have more money and more power and that, of course, is an aspect of our capitalist society. I think we're not going dismantle capitalism any time soon, if we ever do that."
The interesting twist in this test product is that it's not entirely up to McDonald's to move the vegan needle but its consumers. If customers show support for the product with their dollars, the company sees profit as possibility, and will continue to focus on bringing the product to new markets.