A former sex crimes prosecutor is running against the New York DA who failed to prosecute Weinstein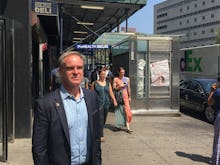 After the revelation that Manhattan's District Attorney Cy Vance failed to prosecute media mogul Harvey Weinstein, despite evidence of alleged sexual misconduct, calls began to mount for a write-in candidate to challenge Vance in his upcoming re-election campaign this November.
Now one candidate has answered the call. Marc Fliedner, a progressive former Brooklyn DA candidate who once worked as a sex crimes prosecutor for the Brooklyn DA's office has said he will run.
"I will accept the calls as a write-in candidate and give the voters an ethical choice in a landscape totally devoid of women's rights and equal justice." Fliedner said in a statement. "My team has informed me that the [New York City Board of Elections] will accept my name as a candidate."
On Tuesday, a harrowing report in the New Yorker revealed that Harvey Weinstein had been captured on tape in a police sting operation, in which he appears to admit to inappropriately groping Filipina-Italian model Ambra Battilana Gutierrez, before pressuring her on the tape to come back to his room.
The article sparked fierce condemnation for Vance, who, as Manhattan's DA, would have had jurisdiction to prosecute the case at the time but did not. Vance's office responded by saying, "After analyzing the available evidence, including multiple interviews with both parties, a criminal charge is not supported."
In a phone interview with Mic, Fliedner explained how his experience gives him unique perspective on the details of the case.
"I come at that discussion as a former sex crimes prosecutor and former victim advocate," Fliedner said. "The official statement that went out yesterday just completely perplexed me."
Fliedner argued that Gutierrez's testimony that she was assaulted by Weinstein would usually be enough to bring some kind of charges.
"Most sexual assault cases of any kind are based — some exclusively, and they're certainly based primarily — on the testimony, the statement of a credible, cooperative sexual-assault victim and they clearly had that," Fliedner said.
"So, to suggest that they couldn't proceed because the tape wasn't everything that one would have it be doesn't make any sense to me."
In an interview with Mic in August, Fliedner detailed his concerns with how New York's prosecutors handle sex crime cases, saying they often use assault survivors like chess pieces.
He echoed some of those concerns, talking about Vance's response to criticism over the Weinstein case.
"I was offended by the insertion of a reference to their sex crimes hotline," Fliedner said, referring again to the statement from Vance's office. "Because that seems to be sending a message to women that 'we are here to help,' whereas the actions in not proceeding with the prosecution actually send the completely opposite message. These are the kinds of things that make it so difficult for women to proceed."
In a statement, a Vance campaign spokesman said that the DA stands behind his "established record prosecuting murder, sex crimes, financial abuse, domestic violence and a host of other crimes."
"We're confident that voters in Manhattan will continue to recognize that record on Nov. 7."
Despite running unopposed in New York City's Democratic primary earlier this year, many progressives in New York had serious concerns about Vance's record even before the Weinstein allegations were reported.
Earlier this month, ProPublica reported that, in 2013, Vance dropped a felony fraud case against President Donald Trump's two oldest children, Ivanka and Donald Jr., concerning allegations that they had lied about occupancy in their buildings in order to attract more customers.
The decision not to prosecute reportedly came shortly after Vance received a sizable donation from Trump's attorney. Vance later returned the donation amid intense media pressure.
"I don't know the details of that lengthy investigation," Fliedner said. "But the decision not to proceed with charging despite the apparent recommendations of his investigative staff plays into the narrative that the rich and powerful can buy a get out of jail card."
Vance has also come under fire from criminal justice reform advocates for his insufficient commitment to some criminal justice reform policies.
Until last month, Fliedner had been a candidate in the crowded Democratic primary for Brooklyn's district attorney. Running on an ambitious criminal justice platform, Fliedner lost to incumbent Eric Gonzales.
Fliedner says he is willing to let his candidacy be the vessel for recent outrage against Vance's decisions in the Weinstein and Trump cases because he sees it as part of his broader fight for reforming the overall justice system.
"[District Attorneys'] power is so great, and their decision making process has such an impact ... that when money dictates it, you're building into the system a class system, which means that those that are poor are not in a position to get the same evalutation as anybody else would," Fliedner said.
"This speaks to the larger issue of grotesque income inequality that dictates how American life is run — it's just applying it directly to the criminal justice system."