Report: Steve Bannon gives Trump a 30% chance of finishing his first term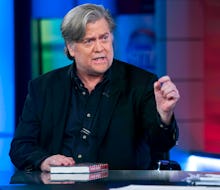 Former White House strategist Steve Bannon doesn't seem optimistic that President Donald Trump will make it an entire four-year term in the White House, according to an explosive report from Vanity Fair.
Bannon has said he believes Trump has only a 30% chance of finishing out his entire term, according to Vanity Fair's report.
That's because Bannon thinks Trump's Cabinet is growing increasingly concerned with Trump's behavior, and believes the biggest danger to Trump's presidency is the 25th Amendment — which allows the majority of a president's Cabinet to vote to remove that president from office. Under the headline "I Hate Everyone in the White House: Trump Seethes as Advisers Fear the President is 'Unraveling,'" the report outlined how some of Trump's closest confidants believe the president has "lost a step."
The report comes after Sen. Bob Corker, the Tennessee Republican and chair of the Senate Foreign Relations Committee, said the White House is an "adult day care center" and that he's worried Trump could trigger World War III.
Senate Republicans have been publicly mum about whether they agree with Corker's sentiments. But privately, congressional Republicans say they are worried about Trump's behavior, according to the Washington Post.
Even close Trump confidants are speaking publicly about Trump's behavior.
Thomas Barrack, a close Trump confidant and one of Trump's oldest friends, told the Post that he's "shocked" and "stunned" by Trump's behavior.