Bitcoin price today hit a new high: What the news means, and whether mining or investing makes sense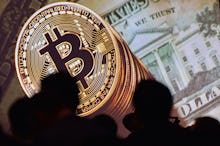 Bitcoin traders might be feeling good right now: For much of September, Bitcoin's value took a dive, at one point losing about a third of its worth from summer highs. At the time, fears about China and some harsh words from Wall Street — like when J.P. Morgan CEO Jamie Dimon called bitcoin a "fraud" — brought the price from a high of about $5,000 per coin back down to about $3,500.
But by Thursday morning, bitcoin had recovered those losses and then some: It was trading above $5,300 per coin at 3:15 p.m. Eastern, according to CoinMarketCap, having gained about 10% in the preceding 24 hours. As Bloomberg tweeted, the cryptocurrency had reached at an all-time high.
Beyond the bitcoin price chart — why value is rising
One theory is that investors overreacted to the crackdown in China, which banned some local exchanges as well as the process of initial coin offerings — where entrepreneurs issue new currencies in exchange for cash to fund their new ventures. Authorities in Russia also recently addressed the topic, with Russian President Vladimir Putin offering assurances that plans to regulate the currency would place no "excessive barriers" to trading — opening up a major potential market, as Fortune notes.
But other factors have gotten traders excited: An Oct. 2 Wall Street Journal article reported that Goldman Sachs was considering opening a unit focused on bitcoin traders. A spokeswoman for the investment bank confirmed that there was client interest in the project, but reiterated that the initiative was still in its early stages. Goldman CEO Llloyd Blankfein added to the hype, tweeting that "folks were also skeptical when paper money displaced gold."
Finally, on Thursday morning, Bloomberg reported JPMorgan Chase's chief financial officer said the firm is open-minded to digital currency — and Dimon said: "I'm not going to talk about bitcoin anymore." Meanwhile, Citi's CFO said his bank is taking an "intense" look at cryptocurrencies and blockchain.
None of the Wall Street giants currently have a bitcoin trading desk, though Fidelity operates a project through its research and development arm, as CoinDesk reported.
The validation of even one Wall Street institution would "change bitcoin" by bringing in lots of big money. One explanation for why bitcoin is so volatile is that not enough people are trading it to keep prices stable. A big bank, even one with a bit of a reputation for catering to ultrahigh-net-worth investors who like to roll the dice, could help the price stabilize.
Of course, those very wealthy investors have a lot of money to lose, and if you're looking for places to invest your hard-earned cash, there are plenty of ways to do so without having to stomach such dramatic highs and lows. Here's a good guide on how to get started with more traditional investing.
Still intrigued by mining or investing in bitcoin or other cryptocurrencies? Here are two guides on what to know before you mine — or buy.
October 12, 2017 3:15 p.m.: This story has been updated.
Sign up for The Payoff — your weekly crash course on how to live your best financial life.