Donald Trump to Puerto Rico: You're on your own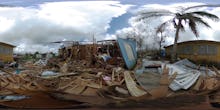 In a Thursday morning tweet storm, President Donald Trump suggested Puerto Rico was partially to blame for the devastation after Hurricane Maria, and said the millions of people struggling to recover from the storm may soon be on their own.
"Electric and all infrastructure was disaster before hurricanes," Trump tweeted. "Congress to decide how much to spend. We cannot keep FEMA, the military and the first responders, who have been amazing (under the most difficult circumstances) in P.R. forever!"
Trump's tweets come three weeks after Maria hit, knocking out power to the entire island, and leaving millions without access to drinkable water.
Three weeks later, 85% of the island is still without power, and the death toll has risen to 45, according to CBS News.
Congress is set to vote on a $36.5 billion aid package on Thursday to ensure Puerto Rico can continue its recovery efforts.
Puerto Rico Gov. Ricardo Rosselló sent a letter to Congress Saturday saying the island is at risk of a massive cash problem. Already saddled with debt, the hurricane has hampered Puerto Rico's ability to collect taxes, and the island can't borrow money in the interim thanks to its debt problem, according to the Washington Post.
Rosselló estimated that the hurricane caused $95 billion in damage — far less than the aid package Congress is offering.