Nonwhite, plus-size and trans models just had their most visible Fashion Month ever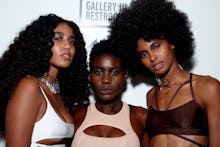 Fashion is taking diversity seriously. That's what you can glean when you read the Fashion Spot's latest diversity report, which took upon the gargantuan task of counting all the models of color, plus-size models, transgender models and models older than 50 at shows during Fashion Month, which is comprised of New York Fashion Week, London Fashion Week, Milan Fashion Week and Paris Fashion Week.
Let's start with racial diversity during Fashion Month. Surveying 266 shows and 8,258 model appearances, the Fashion Spot concluded that 30.2% of all models cast during Fashion Month were nonwhite, a 2.3% increase from February.
"This season does seem historic," Fashion Spot's editor-in-chief, Jennifer Davidson, said in an interview. "Nonwhite models now represent over 30% of castings (and almost 37% in New York), which is a significant improvement from just three years ago when the Spring 2015 season had only 17% models of color. Casting a racially diverse runway is finally becoming the norm. And the few runways with no models of color seem shockingly and egregiously out of touch."
That being said, NYFW, as per usual, is still doing most of the work in that department.
London was the second most diverse, and Milan stands as the least racially diverse, with 24.7% of all models cast being models of color. Each city saw a boost in racial diversity from last season to this season though, and on every runway at NYFW and LFW, there were at least two models of color.
The most diverse shows include Kenzo (78% nonwhite models), Ashish (75% nonwhite models) and Chromat (72% nonwhite models).
Unfortunately, there were a number of shows that had zero models of color, including Comme des Garçons, the brand behind the Met Ball in May.
In terms of plus-size and curve models, there was major progress made there as well, with more size diversity this season than any other on record.
The jump was significant.
A total of 93 plus-size and curve models walked the runways, which is up from 30 last season and 16 the season before that. Though that number sounds substantial, and is indeed historic, plus-size castings are still at a measly 1.13%. Only 13 shows total featured plus-size women, and two shows for plus-size brands — Torrid and Addition Elle — accounted for more than half of these castings.
"I think size diversity is the next frontier," Davidson said. "The body-positive movement has been gaining momentum over the past couple of years, and it's time the runways reflected it. Designers like Christian Siriano, Michael Kors and Prabal Gurung offer a blueprint for casting curve models alongside straight-size models — let's hope more designers follow their lead."
Transgender models also had a record-breaking season, with 45 castings for transgender models and four nonbinary model appearances across 47 runways. Last season had a mere 12 castings, so this is huge.
Star model Teddy Quinlivan, who came out during New York Fashion Week, helped this number substantially; she walked on 27 runways.
What does this level of progress on international stages really say? It says designers and brands are taking note of how excited people get when they feature a runway more representative of the world at large. "It's clear that the calls for inclusiveness are working," Davidson said.
Digging deeper into these stats, what's apparent though is that certain brands and designers are taking diversity more seriously than others, and therefore making Fashion Month look way more inclusive than it perhaps really. Had it not been for shows like Torrid, Addition Elle and Chromat, some of these numbers would be wildly different.
That said, hopefully these continued gradual upticks season to season can continue to build on the momentum that's been created.