Public election financing is working on the local level. What does that mean nationally?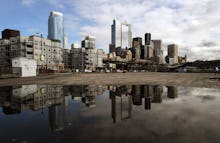 Welcome to Mic's daily read on Donald Trump's America. Want to receive this as a daily email in your inbox? Subscribe here.
Every day, we bring you a different dispatch on Trump's America. Today's focus: public financing.
Thursday's dispatch: The quiet growth of campaigns to finance elections without "big money"
Campaign finance is a key talking point for Jon Grant and Teresa Mosqueda.
The two candidates running for Seattle's at-large city council seat have each raised hundreds of thousands of dollars through "democracy vouchers."
The program, which went into effect earlier in 2017, was approved by voters in 2015. Each eligible Seattle voter receives four $25 vouchers they can give to city candidates. The city then provides that candidate with cash equal to the amount of democracy vouchers — up to $300,000. Grant and Mosqueda both maxed out.
Grant is backed by the Democratic Socialists of America and local grassroots groups. The Democratic establishment and labor unions support Mosqueda. The primary is turning bitter, with both candidates saying the other exaggerates grassroots connections as they tout their voucher contributions.
Eighty-nine percent of Grant's contributions have come from the vouchers, compared with 73% for Mosqueda. Both candidates told Mic they support the voucher system and could not have run without them.
For campaign finance reform advocates, that's precisely the point.
Groups pushing to reform how elections are funded see the surge of grassroots political interest as an opportunity to advance a growing movement to minimize money's role in politics. The chance of passing national campaign finance reform through a dysfunctional Republican Congress is low. But on the local level, advocates say they are notching wins to reform the influence of outside money.
"This is going to mean everybody can run for office," said Dan Krassner, political director for Represent.Us, a group that works to pass anti-corruption laws nationwide. Voters in Berkeley, California; Howard County, Maryland; and South Dakota passed public financing proposals in November. "That was a story a lot of folks missed with the presidential election getting the spotlight," Krassner added.
Several cities, counties and states are exploring public financing systems through 2018. Philadelphia's city council is moving toward supporting public financing, and Oregon legislators are considering a matching system.
Public financing has existed for decades at the state and local level. Most past systems have focused on giving candidates grants or one-to-one matching funds. Seattle's system — which allows people to choose where those public dollars should flow — has spurred broader interest in vouchers. And there are proposals elsewhere to match small-dollar contributions with up to six times as much in government funds — a model New York City has followed for several years.
In the past five years, the number of organizations focused on decreasing the role of money in politics has grown from four to 63, according to the Democracy Initiative, a coalition of groups working on democracy reform. The Movement for Black Lives and the Sen. Bernie Sanders-aligned group Our Revolution both support public election financing.
Public financing "will make grassroots candidates more empowered to take on establishment candidates," Grant said. "We need grassroots leaders and a grassroots movement to combat what's happening at the national level."
National reform advocates find hope in polling. Surveys show most Americans side with groups pushing for policies that would create public financing or limit outside money. In a poll in July, three-quarters of Americans said they have little influence in Washington, with the wealthy, lobbyists and corporations having the most power.
Adam Bozzi, communications director for the campaign finance reform advocacy group End Citizens United, said several initiatives are still gathering signatures and forming campaigns to appear on local and state ballots in November 2018.
"By spring of 2018 we will have an unprecedented surge of viable money-in-politics reform initiatives across the country," Bozzi said. "[Voters] understand that if Washington is not working, Washington is not responding — we can do something in Seattle or Missouri to fix our government here."
Today's question: What role do you think "big money" plays in state and local elections?
Please email us your thoughts at trumpsamerica@mic.com.
Thursday in Trump's America:
President Donald Trump is threatening to pull first responders, the military and FEMA out of Puerto Rico. Suggesting the cost of relief will be too great, Trump's tweets targeted Puerto Rico's poor infrastructure and financial situation.
FEMA is currently funding 100% of Puerto Rico's emergency services and the island will run out of money in a few weeks without action by Congress. Only 10.6% of the island has electricity. The House will vote Thursday on a $36.5 billion relief package for disaster areas, like Puerto Rico, Florida, Texas and California.
Now a must-read: Why the U.S. government shares blame in Puerto Rico's debt crisis.
On Twitter and on TV, Trump again questioned the need for an independent press. Trump blasted NBC for reporting that he requested a tenfold increase in nuclear weapons, openly questioning whether the network's license should be revoked. He also attacked the "fake media" during an interview with Sean Hannity on Wednesday night.
With Congress stalled on health care reform, Trump will sign an executive order Thursday morning that allows the purchase of health insurance plans that do not meet standards set by the Affordable Care Act. That may mean cheaper policies, but it will also mean less-regulated insurance that offers lower coverage.
Drone footage shows the devastating scale of the fires ravaging communities in northern California, burning up wineries and neighborhoods. More than 20 people are dead and hundreds are missing as the fires rage on.
Trump told truckers in Harrisburg, Pennsylvania, on Wednesday that his tax reform plan would give U.S. households a $4,000 raise.
A report says former White House chief strategist Steve Bannon gives Trump a 30% chance of finishing his first term.
White supremacist groups are planning another large-scale gathering, for the end of October. The Shelbyville, Tennessee, rally could be the largest since Charlottesville, Virginia.
Help us track all the times Harvey Weinstein's alleged sexual misconduct was mentioned in pop culture. It's surprisingly frequent.
Today's MicBite:
Harvey Weinstein is far from alone. Mic dives into the history of alleged sexual misconduct in Hollywood. Tap or click the video below to watch.
Oct. 12, 2017, 12:01 p.m.: This story has been updated.
Correction: Oct. 12, 2017