Jeff Sessions gives 'last chance' warning to so-called 'sanctuary cities'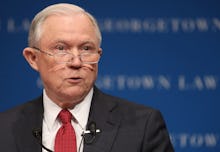 Attorney General Jeff Sessions said four major U.S. cities and one large county in Illinois are not in compliance with federal immigration laws, and gave them a two-week, "last chance" warning to get their policies up to code.
The Department of Justice said in a news release that Chicago, New Orleans, New York City, Philadelphia and Cook County, Illinois, "have preliminarily been found to have laws, policies or practices that may violate" federal immigration law, and gave the cities until Oct. 27 to change their policies.
"Jurisdictions that adopt so-called 'sanctuary policies' also adopt the view that the protection of criminal aliens is more important than the protection of law-abiding citizens and of the rule of law," Sessions said in a news release, adding that he urges, "all jurisdictions found to be out of compliance in this preliminary review to reconsider their policies that undermine the safety of their residents."
The release did not say what would happen if the cities didn't comply.
But President Donald Trump and Sessions have threatened to pull federal crime fighting grants from so-called "sanctuary cities" — or cities that tell their local law enforcement officers not to follow requests from federal immigration officials to detain people suspected of being undocumented.
A federal judge in San Francisco blocked an executive order in April that instructed the Justice Department to block sanctuary cities from receiving federal grants. A federal judge in Chicago also blocked the order.