How to avoid eating like a tourist in Rome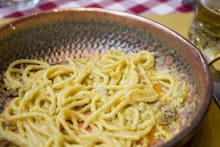 Nothing is more tragic than a bad meal in Rome. But believe it or not, it can happen. Bland pizza. Overpriced cappuccino. Chicken cutlet sandwiches with... fries.
"A lot of restaurant owners, they treat tourists badly, make them eat garbage [and] charge exorbitant prices," 44-year-old Francesco Cutrupi said in a phone interview. "They do a huge injustice to the whole Italian economy, and to themselves." Cutrupi's business, a dessert cafe in Piazza Navona specializing in homemade tiramisu and Sicilian cannoli, is ranked second out of over 6,000 restaurants on TripAdvisor.
Unfortunately, for every Cutrupi, there are plenty of restaurateurs with far fewer scruples. From midday snacking to ordering piatti tipici, which translates to "traditional dishes," here's how to master the art of eating in Rome — according to locals who know the Eternal City better than anyone.
1. Never pay more than a euro for coffee
Almost every Italian starts the day at a café, called "bars" by locals. Bars are relaxed places to catch up on gossip with the barista while lingering over a cornetto (similar to a croissant, either plain or filled with chocolate). While they come in all shapes and sizes, a bar is easy to spot because you'll see a huddle of locals lining up at the counter and you'll hear the noisy clatter of spoons and saucers as the barista hustles to keep up with demand.
To not stick out like a sore thumb when ordering coffee, follow this protocol: Walk up to the register first, and order your espresso or cappuccino — neither should cost more than one euro. Then, bring that receipt over to the counter where the barista will whip up the smoothest, frothiest cappuccino in under 30 seconds.
2. Skip restaurants and order a bite to-go for lunch
The concept of eating on the go is typical among Romans, who are used to life in a busy tourist mecca.
"The best thing for a tourist traveling around Rome would be to have a fast lunch like a panino or a slice of pizza," Francesca Delise, a native of the northern city of Trieste who's lived in Rome for the past five years, said in an email. She noted the best spots are "the [bakeries known as] panetteria or forno and not the kebab places," which she finds "disgusting."
Once you're inside the forno, the selection (not to mention the smell of fresh-baked bread) can be overwhelming. Simplify things by sticking with the most classic of all Roman baked goods: pizza bianca. The lightly herbed, crispy, sauceless crust is different than the traditional, circular-shaped pie that you order in restaurants. It's what Romans munch as a midday snack.
"When you eat pizza bianca, you should taste only the olive oil and the crunch of the pizza. That's it. It has to be very delicate," Pier Luigi Roscioli, the third generation owner of Antico Forno Roscioli, said in an interview. His establishment has been serving customers since 1824, making it one of the oldest continually operating bakeries in Rome. Pizza bianca is one of their top sellers.
3. Resist the lure of food photos
Tourist traps in Rome often display pictures of food — so you're better off keeping distance from any and all food photos, which show up in doorways of restaurants showing sample plates of pasta and bruschetta.
First of all, if the ingredients are high-quality, they shouldn't have to rely on advertising to get you in the door. Second, they're likely betting on the fact that you won't be discerning enough to taste the difference between an excellent and a mediocre plate. Another big no-no, according to food tour guide Claudia Morganti: "Avoid places that show you 'dead food' outside," she said, referring to pre-made plates of pasta that restaurants leave outside for inspection.
4. Head to a family-style trattoria or osteria for dinner
Any place with endless varieties of entrees and tourist-baiting options like French fries and hot dogs won't offer an authentic dining experience. And disqualify any restaurant that's located in a central piazza with "24-hour Service" written in big letters on the window. Usually, these operations have waiters hustling on the sidewalk to hook hungry pedestrians. Ignore them.
"The restaurants in the main squares do not need to care for quality, [because] they know people will [show up] anyway. My advice is to stick to the side streets, away from the [crowds]," Morganti said.
To find the bona fide gems buried among an abundance of tourist traps, keep an eye out for telltale signs of quality like a bustling (but not flashy) interior dining room. An open kitchen where you can see employees roasting vegetables, slicing bread and sizzling meat is another indication of good eats. Most importantly, there should be no complicated menus or garish placards outside.
A trattoria (a small, family-run restaurant) and an osteria (the bar of an inn) both offer a traditional Roman culinary experience in a relaxed, dressed-down setting, usually with a condensed menu and a few nightly specials. They used to be considered separate but these days they're basically synonymous.
5. Say these two words to conquer a dinner menu
Most Italian menus are broken down into five categories: antipasti (appetizers), primi (pasta), secondi (meat and fish entrees), contorni (side dishes) and dolci (dessert). At most restaurants, the waiters will speak at least a little English (this is a tourist town, after all) and will help you choose, but if they don't, the only words you really need to know are "piatti tipici." This translates to "traditional dishes," and will signal to the waiter that you're after the core house specialties.
Specialties might include the perennial Roman favorite — tonnarelli cacio e pepe, a tight bundle of noodles coated in a tangy cream sauce with a sprinkle of ground pepper — or other specialties like carciofo alla Giudia (fried artichokes), fiori di zucca (stuffed squash blossoms with anchovy), abbacchio (roasted suckling lamb) or coratella (pan-fried sweetbreads). Or, Pier Luigi, owner of Antico Forno Roscioli, recommended a dish called petto di vitella alla fornara, a traditional dish of oven-roasted veal.
6. Try something other than pasta
A great example of why not to always order pasta would be Zi Umberto, an unassuming place off Piazza Trilussa in Trastevere. Tantalizing plates of bucatini all'amatriciana and carbonara abound here, but the lesser-known dishes can be just as thrilling.
Like trippa alla Romana. Though cow stomach is a turn-off for some, tripe is exceptionally tasty (and 100% Roman), consisting of smooth, fatty slices of organ meat swimming in a simple aromatic tomato sauce, sprinkled with parmigiano, all soaked up with thick crusty bread. Zi Umberto does a fantastic saltimbocca, too, another classically Roman staple of thinly sliced veal topped with ham and slathered in a sage-butter sauce. And all for under 30 euro.
7. Order gelato — and nothing else — in Piazza Navona
Dessert might be the one instance where it's OK to haunt the main tourist avenues.
"Rome is a city that survives thanks to tourism... I would not go eating in a restaurant in Piazza Navona for example, but I'd go there for gelato," Morganti said. (But make sure to watch out for those 2-foot high mounds of potentially stale gelato.)
If you've overdone it on the gelato, a tasty alternative might be a slice of Francesco Cutrupi's tiramisu. When asked about the recipe, he would name the ingredients (egg, mascarpone, biscotto, caffe), but wouldn't divulge the secret proportion of those things, "the alchemy," that renders the cake so creamy and light. "That's the art of the pastry chef," he said.