3 key takeaways from Trump's health care executive order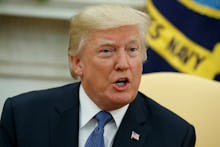 President Donald Trump on Thursday signed a health care executive order that he said amounts to "the first steps to provide millions of Americans with Obamacare relief."
The executive order instructs his Cabinet secretaries to find ways to provide Americans with "lower cost, high-quality options."
That includes asking the Labor Department to find ways to expand association health plans that allow small businesses from different states to group together to purchase insurance plans.
It also asks the Treasury and Health and Human Services Departments to "consider expanding coverage through low-cost, short-term limited duration insurance."
These plans have cheaper subsidies, but aren't compliant with the Affordable Care Act, meaning they often cover fewer health services.
But the impacts of the executive order aren't as clear-cut as Trump made them out to seem.
Here are three key takeaways from the executive order.
The order doesn't actually change anything in the immediate term
Trump made it seem like his executive order would have immediate and positive impacts on the American people.
"People will have great, great health care," Trump said before signing the order. "And when I say people, I mean by the millions and millions.
However, the executive order doesn't actually change anything at the moment.
Like most executive orders, it's merely an instruction to his Cabinet secretaries to find ways to accomplish the goals the order sets out to accomplish.
And those secretaries are constrained by laws currently on the books, in this case, the ACA itself.
The changes the order hopes to inspire could implode the ACA
Health care experts say if the Trump administration does implement what Trump has laid out in his order, it could destroy the ACA.
That's because the order wants to make these short-term health plans that aren't subject to ACA regulations — such as mandates to cover essential health benefits like emergency care and prescription drug coverage — easier to obtain.
Those plans end up having lower premiums, but higher out-of-pocket expenses. That kind of plan is attractive to a healthy consumer who doesn't have many health care needs.
And if healthy people exit the individual marketplace en masse in order to buy these skimpier plans, it would leave the individual market with a sicker pool that is more expensive to cover.
That means sicker people with pre-existing conditions in the individual market could see their premiums skyrocket.
Any changes that are made could be met with lawsuits
If the Trump administration does make new policies in response to Trump's executive order, the administration will likely be sued over the changes.
Former President Barack Obama ran into this problem during his tenure.
Frustrated by congressional inaction on immigration reform, Obama created the Deferred Action for Parents of Americans and Lawful Permanent Residents program, or DAPA.
DAPA was blocked by the courts, which ruled Obama didn't have the power to change immigration law on his own.
If the Trump administration goes too far in dismantling the ACA on its own, it could face the same issues.