San Juan Major responds to Trump's PR Tweets: "Without robust and consistent help, we will die"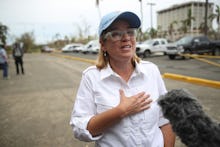 After President Donald Trump fired off a series of tweets Thursday morning threatening to withdraw first responders currently providing aid to the hurricane-ravaged U.S. territory of Puerto Rico, San Juan Mayor Carmen Yulín Cruz responded, making clear just what the stakes are.
"Simply put: HELP US," she said in a statement on Thursday, according to ABC News, which published the statement in full on Twitter. "WITHOUT ROBUST and CONSISTENT HELP WE WILL DIE."
Earlier on Thursday, Trump had tweeted that Puerto Rico's "electric and all infrastructure was disaster before hurricanes" and that "We cannot keep FEMA, the Military & the First Responders, who have been amazing (under the most difficult circumstances) in P.R. forever!"
As Mic has previously reported, the tweets seemed to be a threat to Puerto Rico — which still lacks power on 85% of the island — that the federal government could turn its back on their needs.
In her statement, Cruz responded to Trump's early-morning tweets directly, saying that "Puerto Ricans have suffered greatly in the past month," and that Trump's response has been "unbecoming of a leader of the free world."
Mr. President, you seem to want to disregard the moral imperative that your administration has been unable to fulfill. ... Your tweets and comments just show desperation and underscore the inadequacy of your government's response to this humanitarian crisis. It is not that you do not get it, it is that you are incapable of empathy and frankly simply cannot get the job done.
Cruz also praised volunteers who had come from the mainland U.S. to help the recovery effort in Puerto Rico, and urged Americans to "stand with Puerto Rico and let this president know we WILL NOT BE LEFT TO DIE."
The death toll from Hurricane Maria has risen to 45, according to authorities, CNN reported on Wednesday — however at least 113 people are still unaccounted for, and a recent report from Vox suggested that the actual death toll may be far higher.