Marc Jacobs on his tricky relationship with Instagram: "I consider social media antisocial media"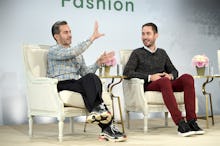 Designer Marc Jacobs has long had — how should we phrase it — a unique relationship with Instagram, where he has more than 840,000 followers. He's one of few designers who regularly capture moments of their mundane yet undeniably chic lives. On his personal account @TheMarcJacobs, he posts pictures of himself at art galleries and fashion parties, as well as the occasional sunlit selfie. (His dog, Neville Jacobs, has 208,000 followers.)
But when it comes to his own fashion shows, he's tried to limit social media altogether. Speaking at Vogue's Forces of Fashion conference Thursday, where he was interviewed with Instagram cofounder Kevin Systrom, Jacobs said he tried to ban phones at his show in February.
"Not this past season, but the season before, I was quite insistent that nobody had a phone or an iPad or a device at the show. I mean, I kind of got really pissed off, to be honest," Jacobs said. "I was really frustrated that you were offering a live experience which you worked on for months, only to have everybody holding up an iPad or phone and not actually looking at the models as they walk down the runway, or not actually experiencing something live."
Part of the beauty of the live experience was being taken away with those phones, he said.
"I think one of the reasons that I was such a latecomer to Instagram is that I consider social media anti-social media," Jacobs continued. "So it was always something, as somebody who grew up in New York and is now 54 years old, I love experiencing things. I like going to the theater. I like shopping in-store."
Jacobs just doesn't get pleasure from merely capturing something digitally. But that being said, he does realize the power Instagram has, particularly in the fashion world. As the discussion moderator, Vogue's digital director Sally Singer, said at the start of the conversation, 150 million people experienced Fashion Month on Instagram. In the spring, it was more like 50 million.
"At the show last season, I insisted that the audience put away their devices for seven minutes — I mean, all I was asking was for everyone to spend seven minutes without an electronic thing attached to their arms," Jacobs said. "We gave all of the models phones and had the models take pictures of the audience as they left the space. Then we posted all of those photos. It turned out well, and I think it's important to keep playing with those things."
So Jacobs understands that engaging with social media at fashion shows is, in some ways, a must.
"This season, we went back to allowing everybody to do what they wanted. So, of course, the models were all taking pictures of each other backstage and posting them," he said. "I've realized that this is just the world we live in. ... It's not like you're removed from the experience; this phone and this posting and this Instagram or this social media is part of what our experience is now."
Another part of Jacobs' complicated relationship with Instagram and social media came when he was first posting on Instagram and accidentally shared a (please forgive us) cheeky picture.
"I wasn't really adept at using Instagram, and I was flirting with someone and thought I was DMing them a picture of my behind, and I didn't, I had posted it," Jacobs said. "So then I took it down. ... That was a bit of an embarrassing thing, but actually my followers went way up. So I didn't really have any regret."
You win some, you lose some.