Model Leyna Bloom becomes the first out transgender model of color to be featured in 'Vogue' India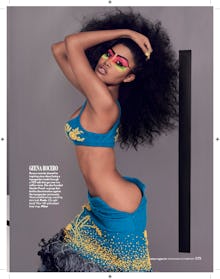 Model Leyna Bloom was one to watch at this past New York Fashion Week. At every runway she bounced down — from Chromat to the Blonds — and presentation she rocked — like LaQuan Smith's — all eyes gravitated towards her effervescent glow.
Now she's making history, becoming the first out transgender model of color to appear in an issue of Vogue India.
In the October issue, she has an entire page to herself, draped in aqua Prada. On another page, she fits into a gaggle of models, sitting strong in Alexander McQueen. (Note the accompanying caption misidentifies Bloom as fellow trans model of color Geena Rocero.)
Bloom follows in the footsteps of Tracey "Africa" Norman, the legendary trans model of color who appeared in Vogue Italia in her youth, and again this month in her 60s.
"All I can say is, 'Wow, my name will be forever be affiliated with Vogue — that's iconic,'" Bloom said. "And history has really been made! It's really a dream come true. I just hope I can keep working with this brand and other brands like Vogue."
She hopes it ultimately shows people in the magazine business that celebrating different types of beauty, models and women can lead to stunning results.
"This is an example to other brands that it works," Bloom said. "It's OK to be the first. It's OK to share our stories and unite our unique beauty with everyone else. We are in a moment in life when all brands should take a moment to capitalize on missing links in our communities and in society. This brings everybody together, everyone should be celebrated."
For Bloom, this spread has felt particularly personal because she has spent years admiring and lusting over international Vogue issues. She wants to open more doors for women like her too.
"This is a big deal because now that this door is open, a new chapter of trans folk can walk in gracefully and be recognized," Bloom said. "Every time I found a Vogue magazine – especially an international copy — I felt like I had a piece of gold. Growing up I had stacks and stack of copies and inspirations from their editorials all over my wall to keep me motivated, dreaming that one day I will be on somebody's wall as their inspiration."
There is one misstep in Bloom's feature in Vogue however, and it's no fault of her own: They got her name wrong. On both of the pages she's featured on, she's credited as Geena Rocero, another trans model of color. This was of course extremely disappointing for Bloom.
"We may have the same fight but our journeys are very different and that should be recognized and respected," Bloom said. "It's like people mixing up Rosa Parks and Harriet Tubman – these two women made history and should be recognized separately for what they did for an entire race of African people and for American history. Did I feel a lack of disrespect when seeing this? Absolutely. But right away after calling them out, they apologized and my agents are trying to see what can be done to fix this."
At this point, Bloom just wants to focus on the positive. She made history. End of story.
"I chose to move forward and promote the amazing moment, as I am still honored to work with the Vogue family and want to continue working with them," Bloom said. "No one thing is perfect, no matter how big or small. Everyone makes mistakes. The bigger picture is that opportunity is much bigger for me. That's how I see it. Once a trans person of color can open a Vogue magazine and see another trans person equally beautiful as the other models and feel the magic... that's what it's all about."
With Bloom's sights set on movies and TV already, and even more fashion domination, you should keep an eye on this woman.
"If I could go back and tell the younger me anything, I would tell her, 'Girl it's all worth it. Just keep on the right track,'" Bloom said. "I wouldn't change anything. That brings me joy, saying that."