Diandra Forrest is the first model with albinism to land her own major beauty campaign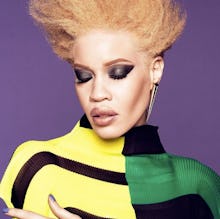 Model Diandra Forrest has appeared in Beyoncé music videos (2013's Pretty Hurts, for instance), graced the cover of Ebony magazine and walked in a slew of New York Fashion Week shows, including one time at a Gypsy Sport show with her baby in her arms.
But perhaps her most important work yet now comes with Forrest making history as the first model with albinism to land her own major beauty campaign. Earlier this week, Forrest announced that she would be starring in a Wet N Wild campaign called "Breaking Beauty," which stars Forrest alongside transgender model Valentijn de Hingh and Mama Cãx, a model, cancer survivor and amputee.
"They were looking for models with a purpose," Forrest, who's been modeling for almost 10 years now, said in an interview. "I think that's what a lot of brands want right now. Models who are redefining beauty and doing things other than just modeling."
Although the campaign hasn't been released yet, Forrest did show fans one shot, which shows her face, sculpted contour, dramatic eyeshadow and perfectly glimmery lips.
"Seeing it felt really, I mean, just surreal," Forrest said. "Because when I first started modeling, I was always told that I was not a commercial model, that my look is very strong so I would only be booked for certain jobs. I had a very niche look, they told me. So I didn't really see myself doing something so commercial. When they reached out, I was shocked. I use Wet N Wild all the time."
For Forrest particularly, makeup has been a struggle. Growing up, and in her early days of modeling, finding the right foundation meant doing a little chemistry.
"It was terrible," Forrest said. "Things were either too dark or too light. I never really could find an exact shade. I was a chemist. I was mixing things and it was just hard. It was hard not only to have correct shades, but also SPF because I'm so pale."
In Wet N Wild's line, Forrest has had luck with PhotoFocus Concealer in Light Ivory 840B and the brand's Mega Cushion Foundation SPF 15 in Light Ivory 106A, which will be available come December.
What's exciting for Forrest with this campaign is, given how mainstream Wet N Wild is, just how many people she'll be able to touch and let know that they're not alone.
"I think for so long the industry has had these standards of beauty that were just ridiculous," Forrest said. "One look of beauty, and I didn't see my look in there at all."
Once this campaign drops, someone could walk down an aisle in CVS and see Forrest selling them foundation or eyeshadow.
"Albinism, vitiligo, they are just conditions," Forrest said. "They don't define us. I think when you look at a person, the first thing you see is their appearance. Being that albinism and vitiligo are often misunderstood, they're looking at it as being weird. It's important to see the beauty beyond what you might not understand. ... I hope that it shows people that there's beauty in everyone and all skin types, skin conditions. Beauty is beyond what's beneath the surface. We're all different, and that's beautiful."