Trump Chief of Staff John Kelly: "I'm not quitting, I'm not getting fired"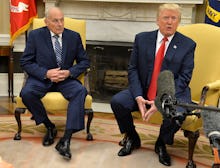 White House Chief of Staff John Kelly sought to dispel rumors he is frustrated with President Donald Trump and looking for an exit from the administration, saying that reports claiming he's thinking of quitting are "just not true."
"I'm not quitting today," Kelly said from the White House briefing room podium. "I don't think I'm being fired today. And I'm not so frustrated in this job that I'm thinking of leaving."
Kelly went on to say that his "only frustration ... is when I come into work and read things I allegedly said," seeking to debunk reports that he is fed up with his job and managing Trump.
There have also been reports that Trump is frustrated with Kelly for seeking to control his access to certain people and information.
But Kelly said that isn't true, either.
"When I watch TV in the morning, it is astounding to me how much is misreported," Kelly said. "I will give you the benefit of the doubt that you are operating on contacts, leaks, whatever you call them. But maybe develop some better sources."