What Melania Trump wore her 38th week as first lady — including her 'Annie Hall' moment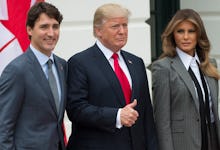 Melania Trump experimented with fashion a bit this week, wearing some unexpectedly modern and young brands that, frankly, wouldn't automatically associate with the first lady. Perhaps this is a signal she's trying to be more daring or innovative — or maybe she was just bored wearing the same high-fashion looks and brands over and over and over again.
Speculation aside, this week was surprisingly full of color and new silhouettes, with Trump also trying out some menswear
This is what she wore:
Tuesday, Oct. 10: A green shirtdress for a West Virginia trip
Now here's a welcome flash of color. For a visit to a West Virginia addiction center and a meeting at the White House later that same day, Trump wore a green shirtdress cinched with a matching belt. It's from the brand Cefinn, which was founded by Samantha Cameron, the wife of former British Prime Minister David Cameron.
How's that for a little diplomacy?
The shoes on Tuesday were pretty wild, with a rainbow python pattern courtesy of Christian Louboutin.
Wednesday, Oct. 11: Melania's Annie Hall moment
We wouldn't peg Trump as someone who'd readily embrace menswear, considering her affinity for highly feminine and classic dresses, but maybe she was just feeling a bit rebellious Wednesday.
For meeting Canadian Prime Minister Justin Trudeau and his wife, Sophie Grégoire Trudeau, Trump wore a pinstripe Ralph Lauren suit with a curiously undone tie around the neck.
Guess the pussy bow just wasn't cutting it.
Thursday, Oct. 12: A blush coat and dress for a White House announcement
Here's another label we never thought Trump would wear: Acne Studios.
Trump on Thursday wore the brand known for its uber-cool basics and jeans, opting for its iconic pink cocoon coat, a beloved choice among fashion bloggers. Trump's actually worn the label before, as Vogue pointed out, wearing one of its bomber jackets to visit hurricane victims in Texas.
As for the dress underneath, it's by the Italian brand Agnona, which we don't believe she's worn before.
Friday, Oct. 13: A classic trench for leaving the White House
As is her ritual, Trump was on her way out of the White House for the weekend Friday afternoon, donning a trench coat with patterned piping from Burberry and a slim pair of black pants — with flats for a change.
You can see previous recaps of what Melania Trump wore here.