Mic Wakeup: Trump talks Puerto Rico, health care and John Kelly says he's not leaving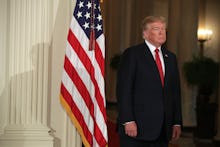 It's Friday. Here's what you need to know this morning.
Trump tells Puerto Rico it's on its own
President Donald Trump on Thursday suggested that Puerto Rico was partially to blame for the devastation it suffered during Hurricane Maria and the federal government may soon abandon victims of the storm.
Carmen Yulín Cruz wasn't having any of it, though. The San Juan mayor, who has been attacked by the White House as an "opportunistic" politician, once again criticized Trump's handling of the storm and urged him to continue to aid the devastated United States territory.
"Simply put: HELP US," she said in a statement on Thursday. "WITHOUT ROBUST and CONSISTENT HELP, WE WILL DIE.."
Trump signs "Obamacare relief" executive order
Trump also signed an executive order Thursday, instructing his Cabinet secretaries to find ways to provide Americans with "lower cost, high-quality" health care options.
While the order doesn't change anything now, it could be the first step in imploding the Affordable Care Act — former President Barack Obama's signature health care reform.
"People will have great, great health care," Trump said Thursday. "And when I say people, I mean by the millions and millions."
What does this mean? It's not clear yet. Trump and the Republicans have failed numerous times to kill the ACA — most recently in September, when the so-called Graham-Cassidy bill failed to get enough support to bring it to a vote to the Senate. The executive order Trump signed Thursday comes less than a week after he announced — on Twitter, duh — that he'd called Senate Minority Leader Chuck Schumer looking to broker a deal on health care. Schumer said that while full repeal was "off the table" for Democrats, he'd be open to working with the president to "improve the existing health care system."
John Kelly will stay put amid rumors of frustration
White House Chief of Staff John Kelly took to the podium Thursday and told reporters gathered for the daily press briefing that he is "not quitting" and "not getting fired" — despite reports that say otherwise.
"I don't think I'm being fired today," Kelly said. "And I'm not so frustrated in this job that I'm thinking of leaving."
Trump "unraveling"? Kelly was responding to reports in Vanity Fair and elsewhere that depicted the president as increasingly "unstable" and Kelly as "miserable in his job" and "remaining out of a sense of duty to keep Trump from making some sort of disastrous decision." He has been reportedly working to contain Trump since taking over as chief of staff this summer — something that has been, well, difficult. But Kelly appeared in good spirits Thursday and said that while he was working "the hardest job" he's ever had, he plans to keep going.