ACLU: Undocumented teenager in Texas abortion case "wants to persevere"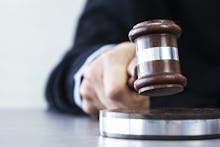 Lawyers with the American Civil Liberties Union are working against the clock to allow an undocumented teen girl in federal custody to get an abortion. Despite meeting the legal requirements for an abortion in Texas, where she is being held, she has been denied access by the Trump administration.
A Northern California federal magistrate judge denied a temporary restraining order Wednesday that would have allowed the teen to terminate her pregnancy.
Texas bans abortions after 20 weeks, and the Associated Press reported the teen girl, who is an unaccompanied minor and crossed the border alone, was about 14 weeks along in her pregnancy. A lawyer for the teen, Rochelle Garza, told the AP that Jane Doe was from Central America. The girl said she wanted the abortion because she'd seen her parents abuse one of her pregnant siblings, according to Garza.
"She is emotionally exhausted, I think is the right word," said Brigitte Amiri, senior staff attorney with the ACLU Reproductive Freedom Project, of the girl referred to as "Jane Doe" in order to protect her privacy. "But she wants to persevere and has decided to keep going."
Texas law requires minors to either have parental permission or a judicial waiver in order to obtain an abortion, and Jane Doe had been able to get the judicial waiver. However, authorities at the federal shelter where she is being held referred her to a religiously affiliated crisis pregnancy center for counseling and refused to take her, or allow her attorney to take her, to a clinic.
In an amicus brief ahead of the emergency hearing Wednesday, Texas Attorney Gen. Ken Paxton argued that Jane Doe did not have a constitutional right to an abortion because she was an undocumented immigrant and warned of far-reaching consequences should she be granted one.
"If the court grants the requested relief, there will be no meaningful limit on the constitutional rights an unlawfully present alien can invoke simply by crossing the border," he said.
Attorneys for the teen girl countered that her immigration status had no bearing on her right to an abortion and, practically speaking, the process to receive one had already been fraught. Every year there are between several hundred to 1,000 pregnant minors under the care of the Office of Refugee Resettlement (ORR), the office that deals with unaccompanied minors, according to Amiri.
"You can imagine how difficult it is for any of these young women to stand up for their rights," Amiri said. "They have fled their countries often because of abuse or violence and made the journey themselves, a journey that is itself perilous, and are placed in a shelter where it's not clear what will happen to them."
The ACLU sued the federal government in 2016, accusing it of contracting organizations like the Conference of Catholic Bishops to provide care for unaccompanied minors under ORR while denying access to contraceptives and abortion, even in cases of rape, on religious grounds. Under President Donald Trump, the ACLU alleges that a new policy denies abortions to all unaccompanied minors in federal custody, not just those who might be receiving care from organizations that object to them for religious reasons. Trump's appointed head of ORR, Scott Lloyd, previously worked on public policy for the Knights of Columbus, a Catholic (and therefore anti-abortion) group.
The emergency hearing for Jane Doe was an attempt to include her in the lawsuit, but the judge ruled that the California court had no jurisdiction over the teen. The suit continues and attorneys for Jane Doe said they would regroup.