Here's why the president has attacked at least 7 international deals in his first year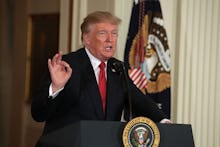 Welcome to Mic's daily read on Donald Trump's America. Want to receive this as a daily email in your inbox? Subscribe here.
Every day, we bring you a different dispatch on Trump's America. Today's focus: Dealmaking.
Friday's dispatch: A recurring theme
President Donald Trump will tell Americans on Friday afternoon that he has grave concerns about the 2015 nuclear deal with Iran. That Barack Obama-brokered agreement relieved sanctions on Iran in exchange for the country no longer continuing its nuclear program.
Trump railed against the nuclear deal on the campaign trail. He's not expected to withdraw the United States from the deal, but he will let Congress consider whether to recertify it with even tougher standards for Iran to meet. Congress will have 60 days to decide. Trump will also announce sanctions against part of Iran's military.
Ahead of Trump's announcement on Iran, here are six other international deals Trump has pulled out of or questioned this year.
The Paris climate agreement: President Donald Trump announced at the beginning of June that the U.S. would pull out of the 2015 pact. Seen by many as a largely symbolic gesture, it nevertheless kept a campaign promise and showed Trump taking on a world bureaucracy. The U.S. officially left the accord at the beginning of August, though many other leading countries remain in the pact.
Trans-Pacific Partnership: Before the end of his first month in office, Trump said the U.S. would not participate in the Trans-Pacific Partnership. That deal positioned the U.S. to trade freely with numerous Asian countries. But Democrats and Republicans worried the deal would hurt American workers. It was seen as one of Trump's first isolationist moves.
NAFTA: The North American Free Trade Agreement, in existence for more than 20 years, has long been a target for the president. He campaigned heavily in Rust Belt states where the agreement led to some jobs being outsourced. But the agreement has also generated massive economic benefits for U.S. companies. This week, the Trump administration unveiled a "sunset clause" that could end NAFTA after five years.
UNESCO: The State Department announced Thursday the U.S. will withdraw from the United Nations' cultural arm at the end of 2018 because of a belief the U.N. is biased against Israel. The U.S. has protested the admission of Palestine as a full member since 2011 and stopped paying dues then.
NATO: The military alliance between North American and European counterparts has long been seen as a counting to aggression by Russia or China. But in May, Trump criticized the organization during a speech in front of his peers. And he said member countries must pay more to support NATO, leaving less burden on the U.S.
U.S.-China trade agreement: Trump has repeatedly questioned whether the U.S. should scale back its trading relationship with China — the United States' largest goods trading partner. Last month, he said the U.S. is considering ending trade with any country that still trades with North Korea. That would be an extreme measure but it has crossed Trump's Twitter timeline.
Finding international deals to attack or withdraw from has been a consistent theme of Trump's presidency. Along with multiple moves on immigration, contempt for the international community is a theme Trump continually returns to.
These moves reflect the people who voted for him: Trump won voters who said trade "takes away U.S. jobs," and immigration was the most important issue facing the country by about a 2-to-1 margin.
Today's question: How closely have you followed Trump's criticism of the Iran deal? Is it a front-of-mind issue for you? Or of less importance?
Please email us your thoughts at trumpsamerica@mic.com.
Friday in Trump's America:
In a bid to force congressional action to reform health insurance, Trump will cut off subsidy payments the federal government pays to insurance companies. Those subsidies, which amount to about $7 billion in annual payments, keeps many private health insurers in markets that would otherwise be too expensive. Democrats decried this as direct sabotage of the program while the White House believes the payments must be legally authorized by Congress.
Trump will deliver a speech on Iran at 12:45 p.m.
Sociologists scolded Supreme Court Chief Justice John Roberts for calling social science "gobbledygook."
"I'm not quitting." John Kelly told reporters on Thursday he will remain as White House chief of staff. He also pledged continue support to Puerto Ricans — contradicting a presidential tweet — and said he was not hired to end the Trump's tweeting.
San Juan Mayor Carmen Yulín Cruz, who Trump attacked a few weeks ago, has kept up the pressure. She said Thursday, "we will die" if Trump pulls resources from Puerto Rico.
"We're watching somebody self-destruct." These experts explain why trying to contain Trump will be difficult. Don't miss the video on that point below.
Trump's executive order on health care doesn't make any immediate changes to the Affordable Care Act. But it inspires the creation of low-cost, low-coverage insurance plans that would undermine the core goals of the ACA. And it will be met with a flood of lawsuits.
A Republican senator said the president might extend the March 5 deadline for DACA recipients. Currently, if Congress does not act to protect dreamers by March, they would begin becoming eligible for deportation.
Facebook COO Sheryl Sandberg apologized on Thursday for her company's role in influencing the 2016 election. But the company's business plan will not change after Russians bought thousands of ads seen by millions of people during the election.
Attorney General Jeff Sessions told several leading U.S. cities that they have two weeks to prove they are not "sanctuary cities."
The solar industry is growing in Trump country.
Susan Collins will stay in the Senate.
Today's MicBite:
A top psychiatrist evaluates the president's mental state. Tap or click the video below to watch.