Rihanna on Fenty Beauty's diversity, her iconic Met Gala outfit and her character in 'Ocean's Eight'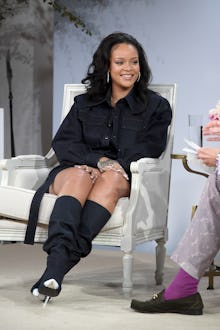 I saw Rihanna speak at Vogue's Forces of Fashion conference last night, and I am forever changed. I am a new person. I am a different person. I am a better person. At this point, the morning after, I am considering breaking my life into two parts: B.R. and A.R. Before Rihanna, and after Rihanna.
It only feels right.
Before last night, I felt like Rihanna was the light of my life. My sun. After last night, she is my sun, my moon and my entire solar system.
How does it feel to be in the same room as Rihanna? Within yards of Rihanna? Breathing the same air as Rihanna? Seeing the light reflect off Rihanna's exquisite cheekbones? What it is like to bask in her glow?
In the moment, you can't help but feel anything but blessed. Honored. Emotionally overwhelmed. All of those emotions swirl in a room that happens to have Rihanna existing in it, and that was all before she even started talking.
The conversation with Rihanna began with questions about her style and her collections with Puma, which have been legendary on their own. She said that her style evolution started with her finding out who she really is.
"I started with really bad style," Rihanna admitted. "Wow, yeah, let's not even go back there. You live and you learn and you make mistakes. ... It had a lot to do with me finding myself. Me knowing exactly who I am, knowing my boundaries. I don't have a lot of boundaries with fashion. With me, really, I kind of just want to do everything in the most extreme way possible. But it had a lot to do with me knowing myself, knowing who I am and what I am as a brand."
Rihanna, the creator of self-love.
She said that right now she's inspired by tailored looks and loves a bit of a throwback moment in fashion, too.
"You know what I'm really enjoying right now?" Rihanna asked, as the room held its collective breath. "I love the tailored looks that feel fresh and feel youthful and something I feel like I can wear with sneakers or my hair just tied up in a ponytail. Fashion always has a way of coming full circle, and now I'm seeing on the runway looks that my mom wore, and I'm like, does that mean that I'm old or that it's new and fresh? That's my favorite stuff."
She also imparted her wisdom about being a celebrity designer and the standards that she's held to as one.
"I believe everybody should be accountable, especially as a designer and a brand and a name," Rihanna said. "I enjoy it the most when someone who is not a fan of mine walks into a store and buys something because they love the piece, love the product. Whether it's makeup or clothes, that really tells me a lot. That tells me that you genuinely love what I have to offer. It's nothing to do with me, favoritism. I love when things are respected solely because of how great they are and nothing to do with my name. I'm all down with the higher standard."
Rihanna, the inventor of humbleness.
After imparting multiple pearls of wisdom about being a businesswoman —  "You want people that are better than you at their job" and "If I can do your job better than you, I can't hire you" — she addressed Fenty Beauty, and the incredible response she's gotten from women.
"I mean, I wanted it to be something that girls love, women love," Rihanna said. "I wanted it to be respected by professionals and I wanted to do something that felt like me, something reflective of things that I love and makeup that I genuinely want to wear. We've had this amazing, emotional connection with customers who've never been able to find their shade of foundation before. I mean, women crying at the counters."
While Fenty Beauty's extensive shade range has gotten cheers from nearly every corner of the beauty industry, Rihanna revealed that it came as a no-brainer for her. The first woman she ever saw put on makeup was a black woman — her mom.
"It's crazy to think about because when I first started creating the brand and making foundation, it wasn't that deep for me," Rihanna said. "The first woman I ever saw put makeup on her face was a black woman. That's my mom. So when I'm thinking of my customer, that is one of my customers and I wanted everybody to feel like they can come and be a part of Fenty Beauty."
Asked why she thinks it's taken this long for more inclusive shade ranges to be the norm, she was stumped.
"I don't know. It blows my mind, actually," Rihanna said. "I don't really know. I don't know if people are afraid of doing things that aren't safe or things that are unknown or they don't know how much money they can make in a certain shade. I don't know. But I feel like there are a lot of brands that have been widening their ranges of shade tones. ... I'm happy I can present something of quality and something that women can feel included when they get to a makeup counter."
Finally, after sharing tidbits about how she landed in that stunning yellow Guo Pei outfit for the Met Gala in 2015 —  "I just started googling 'Chinese couture' and I found these incredible images but this one image ... it was so outrageous, and it was from a designer I had never heard of before. But she was Chinese and I thought 'I can't lose with this'" — Rihanna talked the all-female reboot of Ocean's Eight, in which she stars alongside Cate Blanchett, Sandra Bullock, Mindy Kaling, Sarah Paulson and Anne Hathaway.
Though she was hesitant to share anything at all, she did spill a few deets about shooting.
"I end up working with women by default just because they're insanely great at their job," she said, thus becoming a feminist pioneer. "I got on set and it was like eight girls, and we had a blast. I enjoyed mostly that we were eight strong women who are so different from each other. Even in the film, our roles are so different."
What's Rihanna's role, exactly?
"She's a hacker," Rihanna said. "But she has dreads. She loves Bob Marley. She smokes pot. And she really does not care. When it comes to her style, she has a thing she likes and she will wear it over and over again. The same jeans, the same jumper, the same shoes. ... I enjoyed her character, because it said a lot about her sense of security with herself, the confidence and she was only there to do her job." And just like that, I became a better person.
You can see video of Rihanna's discussion at Forces of Fashion below.