Could Rose McGowan face legal consequences for her Harvey Weinstein rape accusation? What we know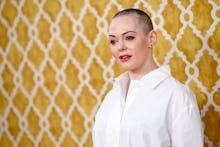 Actress Rose McGowan is one of a growing number of women going public with details concerning alleged sexual harassment or assault at the hands of Hollywood producer Harvey Weinstein — some of them despite having signed legal settlements with Weinstein that may proscribe them from saying anything negative about the disgraced executive. McGowan said Thursday in a series of messages posted on Twitter that Weinstein raped her.
McGowan, who, according to a New York Times report, signed a $100,000 settlement in 1997 with Weinstein after an incident at the Sundance Film Festival. It's impossible to know for sure what could happen to McGowan without knowing the details of that settlement — and whether it included a non-disclosure agreement — but there's good reason to believe that the agreement may have included provisions to keep McGowan from speaking publicly about the matter.
According to Ronan Farrow's New Yorker story, an actress — later revealed to be McGowan — granted an interview to Farrow which she later withdrew, citing legal reasons. "I'm so sorry," she wrote, according to the story. "The legal angle is coming at me and I have no recourse."
But it seems things may have changed in the period between McGowan's reported exchange with Farrow and the actress's own declaration on Twitter, which contained the rape accusation — which Weinstein himself later denied. For McGowan to face consequences now, Weinstein likely would have to sue her for violating any part of their agreement.
If that were the case, he could hypothetically claw back some of McGowan's settlement, as well as seek injunctive relief or damages (which, given Weinstein's likely future earnings loss, could actually exceed the $100,000 McGowan reportedly received). Worst case scenario, she could be out some serious money.
So why did McGowan decide to finally speak out? According to an attorney consulted by Mic, one possible reason might be that Weinstein would have a tough time winning in court — and McGowan would likely have a few options for how to beat his case.
"What's really difficult about a lot of settlements... is that they will tie the settlement payment to the NDA," said North Carolina-based attorney Kathryn Abernethy. "So there will be a provision in the contract that will allow the company to claw back the settlement amount if the victim makes a disclosure."
But even if courts decide against victims who break NDAs, and even if Weinstein's agreements were ironclad, he would still have a hard time finding an amenable judge in the current climate, Abernethy said.
"The press attention around this issue creates a fairly strong headwind against Mr. Weinstein prevailing," Abernethy said. "But without seeing the exact language of the NDA, it's possible he could successfully enforce a well-crafted agreement."
After all, Weinstein's agreement could well be ironclad, but that still doesn't mean judges will enforce it. According to Abernethy, winning in this hypothetical scenario would depend a lot on the jurisdiction where Weinstein chose to bring the case, and whether he appeared before a favorable judge.
Another factor? Weinstein has said publicly that he hopes to make amends with his alleged victims, saying in his statement that he will "plan to do right by all of them," a sentiment that would be drastically undermined by suing alleged victims, whether or not he could challenge their stories' accuracy.
Two other problems for Weinstein: Given the scope and nature of the many allegations against the producer — and particularly given his role as a Hollywood power broker who could make or break careers — McGowan could arguably also attempt to contest enforcement of the settlement by claiming she signed it under duress.
Now, McGowan has one more line of defense: the Equal Employment Opportunity Commission could decide to pursue a separate investigation for other victims — which Abernethy said could be likely if current employees feel emboldened to file a report. If McGowan were asked to testify and had relevant information, she could; Weinstein couldn't use an NDA to stop her.
"Where NDAs become unenforceable is when a governmental enforcement agency steps in," she said. "You can't gag someone from telling what they know about the activities being investigated."
Finally, while settlement agreements between individuals like Weinstein and McGowan are not protected by labor department rules, it's worth noting some NDAs that involve employment relationships may be inherently in violation of federal law, a point the University of Chicago Law School professor Daniel Hemel made in a Vox column. Three cases involving arbitration agreements appeared before the Supreme Court on Oct. 2, and in those cases the employer argued that their arbitration agreements were enforceable despite strict confidentiality agreements.
Sign up for the Payoff — your weekly crash course on how to live your best financial life.