While You Weren't Looking: 6 things Trump's Cabinet did this week that didn't involve Obamacare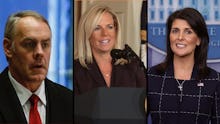 As the sexual assault allegations against Hollywood mogul Harvey Weinstein and President Donald Trump's multiple executive decisions to undermine the Affordable Care Act dominated the news cycle, several major news stories — including the nomination of a new Cabinet secretary, flew completely under the radar this week.
Here are six major news stories from the Trump administration you may have missed:
Trump finally named John Kelly's replacement as Homeland Security chief
In news that received notably less coverage than previous appointments, Trump named his nominee for the next secretary of homeland security. Two-and-a-half since John Kelly left the post to become the White House chief of staff, Trump selected Kelly protégé Kirstjen Nielsen to succeed him.
Nielsen has been serving as Kelly's principal deputy chief of staff in the White House; before that, she'd been Kelly's chief of staff at DHS.
Nielsen is the second woman to be nominated for DHS secretary after former Secretary Janet Napolitano. If she is confirmed, two of the department's six secretaries in its short history will have been women.
The Health Department quietly defined life as beginning at conception
In an official draft of an internal strategy document, the Department of Health and Human services said it defined life as beginning at conception.
"HHS accomplishes its mission through programs and initiatives that cover a wide spectrum of activities, serving and protecting Americans at every stage of life, beginning at conception," the document's overview section reads.
Defining life as beginning at conception is a time-tested tactic for anti-abortion rights activists.
The HHS document also makes other radical departures from previous administrations, such as de-emphasizing health risks for minority populations and promoting "faith-based" organizations in medicine.
Senator: Trump will extend DACA deadline beyond March 5
Trump will extend the March 5 deadline for ending the Deferred Action for Childhood Arrivals program if Congress fails to reach a deal on DACA by then, according to Sen. James Lankford (R-Okla.).
In September, Trump announced he would end on March 5 the program that protects 800,000 undocumented immigrants who arrived in the country as children, giving Congress six months to come up with a legislative solution.
Outside a Tulsa, Oklahoma, town hall Thursday, Lankford said the president told him he would "give it some more time" if Congress failed to reach a consensus by then.
New entrants into the program were barred on the day Trump made his announcement, and renewals for DACA's two-year protection ended Oct. 5. It's not clear whether or not the president will reopen the renewal window.
Interior Secretary Ryan Zinke's travel continued to raise questions
Interior Secretary Ryan Zinke's travel habits continue to raise ethical questions about whether the Trump Cabinet member is mixing his business with his personal life.
On Sunday, Mic first reported the story that Zinke's wife, Lola Zinke, had been traveling with the secretary to official events, despite not being listed on the department's travel log. Sources within the Interior Department told Mic there was a concerted effort to keep Lola Zinke out of official photographs, including those taken in closed-door meetings.
Other reports claim Zinke has been attending Republican Party fundraisers while traveling on official department business.
Zinke's office claimed he has not broken any laws. His travel is currently being investigated by both the Office of Special Counsel and the inspector general to the Interior Department, according to CNN.
U.S. announced plans to withdraw from UNESCO citing anti-Israel bias
The United States will withdraw from the United Nations Educational, Scientific and Cultural Organization. The Trump administration cited "anti-Israel" bias as the motivation behind the decision
The United States previously withdrew from UNESCO during former President Ronald Reagan's tenure; after the organization moved to accept Palestine as a member, former President Barack Obama's administration slashed its funding to the organization.
The State Department claimed the United States will continue to attend meetings of the organization "as a nonmember observer state."
Trump selected a CEO for top NOAA job
Trump on Friday selected AccuWeather CEO Barry Myers to run the National Oceanic and Atmospheric Administration.
Despite running a company dedicated to weather forecasting, Myers has no climatological, meteorological or even scientific background.
In addition, Myers has previously lobbied on behalf of the private weather-forecasting industry to restrict publicly available National Weather Service data to give his company and others like it an advantage.
Members of the scientific community and previous NOAA administrations have already called Myers appointment a conflict of interest.