Puerto Rico by the Numbers: Three weeks later, the island is still devastated from Hurricane Maria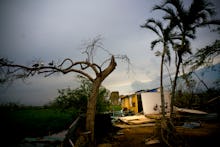 It has now been more than three weeks since Hurricane Maria made landfall in Puerto Rico and the island is still reeling from the devastation it caused.
Despite an influx of federal and private aid, many on the hurricane-ravaged island are still without such basic necessities as potable water and electricity, and the death toll of Puerto Ricans killed by hurricane-related causes continues to climb.
"What happened in Texas and Florida were disasters," W. Craig Fugate, the FEMA administrator under former President Barack Obama, told the New York Times. "What happened in Puerto Rico was a catastrophe."
Here are the numbers to know about the ongoing devastation in Puerto Rico.
3.4 million
The population of Puerto Rico. As a U.S. territory, all Puerto Ricans are American citizens, and the island is more populous than 21 U.S. states, according to CNN.
9%
Percentage of Puerto Rican residents with electricity as of Oct. 13, according to FEMA.
63%
Percentage of Puerto Rico Aqueduct and Sewer Authority customers who have potable water, according to FEMA. This means that more than 1.2 million citizens are still without water, CNN noted.
The New York Times reported that finding water has been an ongoing struggle for Puerto Ricans in the wake of Hurricane Maria, with some even resorting to trying to obtain water at Superfund sites filled with hazardous waste.
76.1%
Percentage of cell sites that still remain out of service as of Oct. 12, as reported by the Federal Communications Commission. The Puerto Rican government reported that as of Oct. 15, 59% of telecommunications services are currently operational, along with only 25.07% of cell phone antennas and 42.61% of cell phone towers.
392
Miles of roads in Puerto Rico that are open as of Oct. 12, according to FEMA — out of a total 5,073 miles of roads.
90%
Estimated percentage of homes in Puerto Rico that were damaged by Hurricane Maria, according to CNN.
80%
Percentage of crops in Puerto Rico that were destroyed by Hurricane Maria, according to the Weather Channel, devastating the island's agricultural industry.
48
Official death toll of Puerto Ricans killed by the hurricane, as reported by the government. An additional 117 people, at least, also still remain unaccounted for.
The actual number of deaths, however, is projected to be much higher. Vox has reported an additional 36 hurricane-related deaths in addition to the official tally, along with an additional 450 deaths where the cause is currently unknown.
Just one week after Hurricane Maria, the Center for Investigative Journalism in Puerto Rico found that the majority of the island's hospital morgues were already at capacity. The Los Angeles Times also noted that 100 people died in the three days following the hurricane in Puerto Rico's Lajas region, which is twice the region's typical rate.
$95 billion
Estimated total cost of Hurricane Maria's damage in Puerto Rico, according to CNN. The island was previously $74 billion in debt prior to Hurricane Maria and only had a $15 million emergency fund, the Huffington Post noted.
$4.9 billion
Amount in federal loans specifically designated for Puerto Rico relief in a $36.5 billion disaster aid bill passed by the House of Representatives Thursday. The bill also includes funding for other recent hurricanes and the wildfires in California.
Puerto Rico Gov. Ricardo Rosselló recently wrote a letter to Congress requesting the more than $4 billion in federal aid, warning that the territory was "on the brink of a massive liquidity crisis" in addition to the ongoing humanitarian crisis.
20,000
Number of federal staff and military personnel on the ground in Puerto Rico and the U.S. Virgin Islands, according to FEMA.
President Donald Trump was criticized on Thursday for saying "we cannot keep FEMA, the military [and] the first responders ... in P.R. forever!" The president later sent another tweet on Friday morning that said he will "always be with" the people of Puerto Rico.
36%
Percentage of Americans who approve of the federal government's response to the situation in Puerto Rico, according to a Quinnipiac poll released Oct. 12. Fifty-five percent say the government has not done enough to address the ongoing devastation, as compared with 49% who disapproved a week earlier.
The approval rating is lower than the public's approval of other recent disaster responses, including Hurricane Harvey (57% approval) and the mass shooting in Las Vegas (50% approval). The George W. Bush administration also earned a higher approval rating — 41% and 44%, depending on the poll — for its response to Hurricane Katrina three weeks after it made landfall in 2005, which was widely considered to be insufficient.